LONDON, March 4, 2010 (AFP) - South Korea coach Huh Jong-moo believes his side's impressive victory over the Ivory Coast leaves them perfectly positioned to make an impact at this year's World Cup.
Goals from Lee Dong-gook and Kwak Tae-hwi secured a 2-0 win against the Elephants at Loftus Road as South Korea impressed on the counter-attack at the home of second division Queens Park Rangers on Wednesday.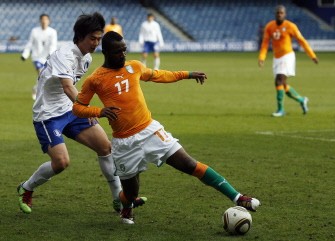 Ivory Coast's defender Siake Tiene (R) fights for the ball with South Korea's midfielder Ki Sung-Yong (L) during their International friendly football match in London on March 3, 2010. AFP PHOTO
The 2002 World Cup semi-finalists face Argentina, Nigeria and Greece in their Pool in South Africa, and Huh is adamant his side's preparations are going to plan perfectly.
"This game was excellent practice for us before the World Cup," he said.
"We have to play Nigeria and while their style is not exactly the same, Ivory Coast are another African team and it was important for us to go up against a team like that before we go to South Africa.
"Of course it will be tough for us in the World Cup but we have confidence that we can perform and are looking forward to the challenge."
Huh's optimism was bolstered after South Korea made light work of the much-fancied Ivory Coast.
They took the lead after just four minutes as Lee showed superb technical ability to hit a first-time volley past Boubacar Barry from 12 yards, before the Ivorians, led by Chelsea striker Didier Drogba, upped the pace.
But after counter-attacking with precision, South Korea added a second shortly before the final whistle as Kwak headed home from close range.
Yet Huh tempered his praise with a note of caution, insisting his side can take nothing for granted as they prepare for the tournament.
"We played very well and it is a good win for us but there is a lot of work to do before the World Cup."
He added: "We are not meeting again until May now, but I will give the players homework to do on our opponents.
"I want them to study videos of the teams we shall be playing as they all need to improve before we go to South Africa."
And Huh reserved particular praise for his European-based players, with captain Park Ji-sung to the fore as South Korea exploited the gaps Ivory Coast left at the back.
The Manchester United star was inches away from scoring, and Huh believes it is the experience of players such as Park which is crucial to his team.
The players who play in Europe lead this team and you saw that out there," he explained. "The Ivory Coast have more experience and quality but we attack and defend as a team and we deserved to win."
But while Huh was upbeat, his Ivorian counterpart, Kouadio Georges, refused to speak to the press after this match.
The caretaker coach, who is expected to be replaced by Guus Hiddink in the next few days, walked in to the press room but then did not speak to the assembled journalists.
If Hiddink is appointed he will have to work fast to transform a team lacking in confidence in time for the World Cup, where they will face Brazil, Portugal and North Korea.
But Huh expects his opponents to fare well in South Africa.
"Ivory Coast played well and caused us a lot of problems but we adapted well. I expect them to be strong in the summer though they have a very tough group," Huh said.