BARCELONA, Spain, April 22, 2010 (AFP) - Dozens of dignitaries and athletes attended a funeral mass Thursday for former International Olympic Committee president Juan Antonio Samaranch who is credited with modernising the Games.
Spain's King Juan Carlos, Prince Albert of Monaco and several Spanish government ministers and Samaranch's successor at the helm of the Olympic movement, Jacques Rogge, were among those who attended the ceremony at Barcelona cathedral.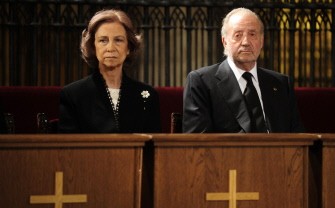 Spain's King Juan Carlos and Queen Sofia attend a funeral mass for former International Olympic Committee president Juan Antonio Samaranch inside Barcelona's cathedral on April 22, 2010. AFP photo
The coffin carrying Samaranch's remains, draped with the Olympic flag, was carried into the cathedral by top Spanish athletes, including tennis ace Rafael Nadal, synchronised swimmer Gemma Mengual and handball keeper David Barrufet.
"He is the most important person in the history of Spanish sports," said Nadal.
Samaranch's remains were to be cremated after the funeral mass. His family did not divulge details as to where his ashes will be kept.
One of the longest-serving presidents of the IOC, Samaranch passed away from a cardiorespiratory arrest at a Barcelona hospital on Wednesday at the age of 89.
He helped to revolutionise sponsorship and broadcasting deals for major events, seeking global sponsors instead of national federations making their own local arrangements.
"Samaranch changed everything, he made the Olympic Games what they are today, the world's main sports competition," Rogge said earlier on Thursday at a private ceremony at the headquarters of the Catalan regional government.
Hundreds of people of all ages and backgrounds filed past Samaranch's coffin in silence during the six hours that Samaranch's remains lay in state at the headquarters ahead of the funeral mass. Many were in tears.
A single red rose lay over the coffin, placed there by Samaranch's daughter Maria Teresa.
In the condolence book placed near the coffin, many left messages expressing their gratitude to Samaranch for helping to bring the Olympics to Barcelona in 1992, an event which is credited with transforming the port city.
"Thank you for putting Barcelona on the world map," read one anonymous message.
Pedro, a 45-year-old IT engineer who worked as a volunteer at the Barcelona Games, told AFP that "thanks to Samaranch, I had the chance to experience the Olympics from the inside."
"I have something to tell my children, and I will continue to tell my grandchildren," he added.
Samaranch's coffin was surrounded by dozens of wreaths, including one of bright red roses sent by Cuban President Raul Castro and his brother Fidel.
Speaking on behalf of her family, Maria Teresa, dressed in black, expressed her gratitude for the tributes paid by world leaders, including French President Nicolas Sarkozy and Russian Prime Minister Vladimir Putin.
"He had two families, us, his intimate family, but we knew that we were not the only one, his other big family was sports and athletes," she said.
Samaranch headed the Olympic movement from 1980-2001. Only Pierre de Coubertin, the "father" of the modern Olympics and IOC chief from 1896 to 1925, has held the post longer.
Cheng Cheng Li, a Chinese immigrant who lives in Barcelona, said she began following Samaranch's career after meeting him briefly years ago at the Asian cultural centre where she worked.
"I am very saddened by Samaranch's death, but I am pleased that I was able to give a bouquet of flowers to his daughter today," she told AFP.
Spanish newspapers all paid tribute to Samaranch on Thursday.
"Good-bye to the champion of the modern Olympics," wrote top-selling daily el Pais while sports daily Marca wrote: "Immortal Samaranch".
"Good-bye to the lord of the rings," wrote centre-right daily El Mundo in a reference to the five interlocking rings that are the symbol of the Olympics.