MADRID, April 16, 2011 (AFP) - Barcelona playmaker Xavi Hernandez says he is most afraid of facing Real Madrid in the Spanish Cup final, of the four Clasicos that the two sides will play over the next three weeks.
The bitter rivals confront each other in a league match in Madrid on Saturday night, before locking horns again in the Spanish Cup final on Wednesday and then in the two legs of their Champions League semi-final, on April 27 and May 3.
"The fans wait every year with great expectation for the two Clasicos, at home and away," Xavi told the Spanish daily El Mundo in an interview published Saturday.
"In the coming days, we will have not two but four Clasicos. It's fanastic."
Of the four, he is most afraid of the Cup, "because it is a single match."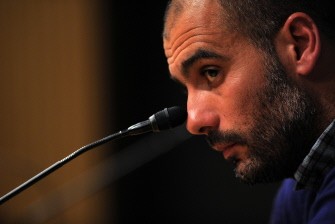 AFP - FC Barcelona's coach Pep Guardiola speaks at a press conference at the Camp Nou stadium in Barcelona on the eve of their Spanish League football match against Real Madrid, on April 15, 2011.
If there is "any temporary collapse, even if only for five minutes, any expulsion, right or wrong, any isolated incident, it can kill the game and there's no room to react," said the 31-year-old Spanish international.
But is he excited about the challenge of facing Real.
"We play better against the big teams. With Real Madrid, there's the extra motivation because it's our oldest rival and also the most difficult rival, now and forever. I like these kind of challenges."
Champions Barcelona hold a commanding eight point lead over Real in the league with seven games left and victory over their foes on Saturday would virtually seal the league title, while a draw would still leave Madrid with a mountain to climb.
In the first Clasico of the season, on November 29, Barcelona thrashed Real 5-0 at the Camp Nou.
"Some may think that the 5-0 league match at the Nou Camp was a shock result, but if an hour later we had returned to play another game with the same players and the referee, the result could have been completely different," said Xavi.
"You never know in a Barcelona-Real Madrid match. You never know."