MADRID, April 28, 2011 (AFP) - Spain's sports media was divided Thursday following Barcelona's 2-0 first leg Champions League win over a 10-man Real Madrid, with some papers questioning the referee's decision to send off Pepe.
"Why?" screamed both sports daily Marca and AS on their front pages.
"An exaggerated red card against Pepe left Madrid with 10 men against Barca for the fourth time," added Marca on its front page.
German referee Wolfgang Stark issued Real's Portuguese centre-back Pepe with a straight red card on the hour mark following a tackle on Dani Alves.
Barcelona made the extra man count with Messi converting an Ibrahim Afellay cross on 76 minutes and then scored a mesmerising goal on 86 minutes for his 11th Champions League goal of the season.
"Ecstasy," wrote Barcelona-based sports daily Mundo Deportivo in bold letters on its front page below a photo of Messi celebrating one of his goals.
"Messi is the damn master," it added, in a reference to Barcelona coach Josep Guardiola's comments before the match that Real coach Jose Mourinho was "the damn boss, the damn master".
"The damn master is Messi," said rival Catalan sports daily Sport on its front page.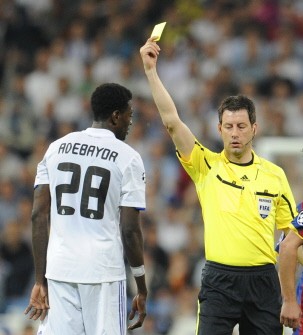 AFP - Real Madrid's forward Emmanuel Adebayor (L) receives a yellow card from referee Wolfgang Stark during the game
"Mourinho, who was sent off, is a bad loser. He once again presented himself as a victim of the referees," it added.
During his post-match press conference Mourinho said referees have always favoured Barcelona and highlighted the dismissal of Pepe as an example.
"It shouldn't have been a red card for Pepe. Maybe someone can give me an answer. A foul on a Barcelona player and miraculously a red card," he said.
Marca agreed with the Portuguese coach, saying it was Stark's decision to send off Pepe which gave the victory to Barcelona.
It said the referee "became the big protagonist of the match by sending off Pepe at the start of the second half. A severe decision after an error on the part of the player against Dani Alves, which no one thought would lead to more than a yellow card."
Rival AS agreed, saying Stark "sent off Pepe when he deserved a yellow card".
"German referee Stark entered yesterday into the gallery of the monsters of Real Madrid's universe," it added.
Madrid must now pull off a miracle and win well at Camp Nou in the second leg on May 3 if they are to reach their first final since 2002, when they won a record ninth crown.