*Some facilities at the My Dinh National Sports Complex including a 40,000-seat stadium, two training pitches, a water sports center, a training football center and a hospital specializing in the treatment of sports injuries became operational yesterday.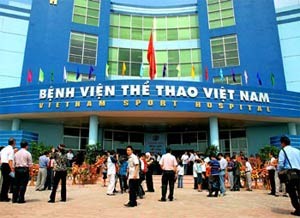 The hospital specializing in the treatment of sports injuries at the My Dinh national sport complex
Yet to be completed at the complex are four indoor facilities, tennis and golf practice areas, a velodrome, media center, recreation area for the elderly and campuses for athletes.
*The Asian Athlete's Association has invited three of Viet Nam's best athletes, high-jumper Bui Thi Nhung, runner Vu Thi Huong and runner Nguyen Van Hong, to participate in the 2007 Asian Track and Field Grand Prix beginning next month in Thailand before moving on to India for the second round.
*Ha Noi's women's football team returned to Viet Nam from a 20-day training camp in Guang Zhou, China where they engaged in four friendly matches against local football teams as a warm-up for the upcoming local league series. The team won two games and lost two, with bronze ball award winner Tuyet Mai scoring three points and Kim Tien two.
*More than 20 countries including Korea, China, the US, France and Japan will participate in the 2007 International Fencing Tournament from May 17 to 20 in Ha Noi.