* Vietnamese Badminton Player Doubles Success at All England 2008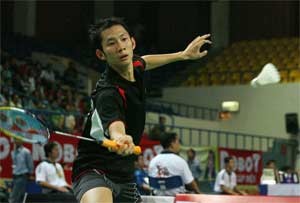 Nguyen Tien Minh has a good start at the All England Super Series 2008
The 38th world seed Nguyen Tien Minh completely defeated the 70th seeded player in the world, Jorgensen of Denmark in the qualification round of the All England Super Series 2008. 
 
A two-nil victory seems to have been good preparation for his victory over the 20th world seeded player, NG Wei of Hong Kong. 
 
During this match, Minh showed improved skills and confidence.
 
Today, Minh will face either the 32nd world seeded Canadian player, Andrew Dabeka, or Indonesian Hidayat Taufik, 7th seed, who was defeated by Minh earlier.
 
The series takes place in National Indoor Area in Birmingham, Britain from March 4-9. The main host association is Badminton Association of England. 
 
* Viet Nam to Help Laos to Organize the 2009 Southeast Asian Games
Yesterday, Laotian Deputy Prime Minister Somsavat Lengsavad had an official meeting with representatives of General Department of Sports and Physical Training to discuss how to organize the 25th Southeast Asian Games.
 
Laos affirmed there would be only 25 sports in the games and an anticipated participation of 5,000 guests, of which 1,000 would be journalists.
 
Laos is upgrading the official website of the games on the Internet and is purchasing electronic devices including timekeepers as well as equipment for referees to use in martial arts events, said Mr. Duong Nghiep Chi, director of the Institute for Physical Training and Sport Science. 
 
Laos is also setting up an information center for the games, he added.
 
Secretary General of Viet Nam Olympic Committee Hoang Vinh Giang advised Laos to add sports to the games in which Laotian have played well, including petanque, shuttle cock, diving, karatedo, wrestling, and taekwondo.
 
The representatives also discussed other preparations, including member cards for the games and services at the information center.