* V-League Teams Promised to Receive More Bonuses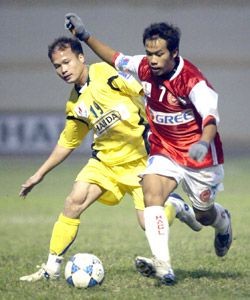 HTH's Thanh Tung (R) with a perfect maneuver to pass over HAGL's Thonglao.
Ha Noi ACB's main coach Kien decided to reward his team VND50 million for gaining one more point from their recent match against Binh Dinh.
Recently, Halida Thanh Hoa also rewarded their players VND150 million for an excellent victory over the strong opponent Song Lam Nghe An in the fourth round.
Moreover, the operators promised to reward the board of coaches and players more than VND100 million for scores made on the Go Dau field in the fifth round of the  V-League 2008.
* Giay Thanh Cong Tay Ninh's Coach Ho Thu Resigns
Mr. Thu tendered his resignation as coach of the Giay Thanh Cong Tay Ninh (GTN) late Saturday after his team suffered three consecutive losses and one empty draw in the early qualification of Anpha Petrol Cup 2008.
The bad results keep GTN at the bottom of the ranking, 14/14.
According to Lam Van Nhuong, Chairman of GTN, Mr. Thu's resignation has been approved and deputy coach Mang Van Xich will take over Thu's post since the fifth round.
* U-17 Pijico Song Lam Nghe An to Appear in Lion City Cup 2008
Recently, Football Association of Singapore (FAS) sent a friendly invitation to Viet Nam to join the Lion City Cup 2008. In return, Viet Nam Football Federation (VFF) appointed its sole representative, also known as the Viet Nam Sports Newspaper Cup 2007's champion Pijico Song Lam Nghe An (PSLNA) to participate in this sporting event.
Currently, PSLNA's main coach Nguyen Quang Hai added five more players, including two from U-17 Nam Dinh, two from U-17 Da Nang and one from U-17 Military Zone 4, to the official formation.