* Asian Grand Prix 2008 to Meet Vietnamese Athletes Again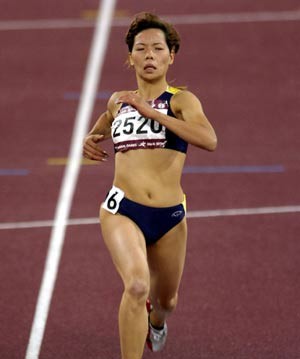 Vu Thi Huong will probably join the Asian Grand Prix 2008
The Asian Athletics Federation will announce the list of candidates to qualify for the Asian Grand Prix 2008 in March. The co-host Viet Nam awaits at least five of its athletes to join this game.  
The five Vietnamese candidates, including Bui Thi Nhung in the High Jump, Vu Thi Huong in the Women's 100m and 200m, Bui Thi Hien in the Women's 5000m, Truong Thanh Hang in the Women's 800m and Nguyen Dinh Cuong in the Men's 1500m are currently most likely to represent Viet Nam at the Asian Grand Prix 2008.  
Viet Nam awaits further vacancies for other Vietnamese athletes to join in the games.  
The Asian Grand Prix 2008 will take place in three venues, two in Thailand and one in Viet Nam from June 23-30.  
* Arirang Cup 2008 to Eliminate Three Players

The operators of the National Futsal Championship, titled Arirang Cup 2008, confirmed the names of three players to be suspended from playing for a time due to their behavior following a recent match. The players include Luong Thanh Hung of the Thai Son Bac Team, Dao Ngoc Son and Dao Anh Trung of the Dilmah Ha Tay Team. 
Hung was fined VND1.5 million (US$93) and cannot play in the next four matches. Son and Trung were fined VND2.5 million (US$156) each and will miss the next three matches.  
Difficulties occurred at the end of a recent game resulting in the two teams drawing 3-3. The Dilmah Ha Tay players became very angry. They believed Thai Son Bac had been given an unfair advantage as they had received extra time, in which to score, due to the miscalculations in the timing by the referees.  
Hung hit Nguyen Hoang Giang of the Dilmah Ha Tay team. Players from Dilmah Ha Tay used very harsh language to put the referees and operators down.