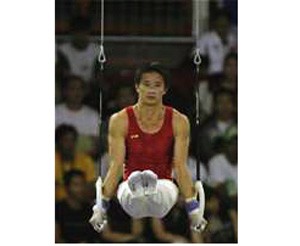 Vietnamese aerobic athlete Truong Minh Sang
*Viet Nam's aerobic team, including Nguyen Ha Thanh, Nguyen Minh Tuan, Truong Minh Sang, Do Thi Ngan Thuong, Nguyen Thuy Duong and Phan Ha Thanh, will take part in the Aerobic World Championships in Ghent, Belgium from May 12 to 13.
*Viet Nam's Karate team, including Hoai Long, Trong Thanh, Manh Tuan, Viet Bang, Manh Hieu, Quang Duy, Hoang Ngan and Thu Ha, will compete in the 2007 Thailand Karate Open taking place from May 24 to 29.
*Top Vietnamese billiard players, Nguyen Thanh Long and Nguyen Thanh Binh will take part in the Asian Billiard Championships held in Qatar from May 25 to June 3.
*Viet Nam's Judo team including Van Ngoc Tu, Bich Tram, Nguyen Thi Kieu, Bui Thi Hoa, Nguyen Quoc Hung, Minh Nhat, Hong Quan and Hai Ho will participate in the Asian Judo Championships in Kuwait from May 12 to 15. The competition is a warm-up for the South East Asian Games in Thailand this December.
*In order to prepare for the upcoming 2007 King's Cup in Thailand in May, Viet Nam's Sepatekrow team will practice in Thailand for one month.
*With eleven combatants, Viet Nam's Taekwondo team will take part in the World Taekwondo Championships in China from May 14 to 23. The tournament will offer a chance for the Vietnamese fighters to display their ability and act as a warm-up for the 2008 Beijing Olympics. The team will have to make do without Dinh Thanh Long, a bronze medalist in last year's competition, who picked up an injury in the Ha Noi Taekwondo Open.
*Viet Nam's shooting team will compete in the Rifle & Pistol World Cup in Bangkok this month and another competition in Munich.