LONDON, Aug 24, 2010 (AFP) - Tottenham Hotspur head into Wednesday's UEFA Champions League play-off second leg against Young Boys of Berne knowing they are fortunate to even be in with a chance of progressing to the group stage.
Young Boys travel to White Hart Lane having shocked Tottenham in the first leg, going three goals up within half an hour as the north London side struggled to adapt to the artificial surface at the Stade de Suisse stadium.
Harry Redknapp's side recovered through goals from Roman Pavlyuchenko and Sebastien Bassong to end the first leg just 3-2 down.
That result means Spurs need to beat their Swiss opponents in the second leg, to go through to the lucrative group stage of the Champions League.
But even though Redknapp admits Tottenham "came back from the dead", the manager is well aware they still face an uphill task.
"We've got the advantage of two away goals and we need to go out there and win the game," Redknapp said.
"We've got a big chance. It won't be easy, but we've come back from the dead after being 3-0 down."
Spurs have had their confidence buoyed by an impressive 2-1 Premier League win at Stoke City since their trip to Switzerland.
Gareth Bale was Spurs' stand-out performer at the Britannia Stadium on Saturday, scoring both goals for his side.
And Redknapp hailed his left-sided player as "amazing", after his shoulder-high volley for Spurs' second.
He added: "I can't think of a better left-sided player in Britain, really. That left foot of his is amazing, he can run all day and he can head it -- he's 6ft 2in (188cm).
"He's got everything. You couldn't even put a value on him. Almost any club in the world would want to buy him -- in fact, I know they would."
Redknapp has a lengthy injury list to contend with ahead of the Young Boys fixture, as strikers Jermain Defoe, Robbie Keane and Pavlyuchenko, along with midfielder Luka Modric, all sat out the Stoke game.
The Spurs boss believes Defoe is the most likely to recover in time for the Young Boys game, saying: "Defoe probably has the best chance, but the others could be struggling.
"Defoe won't train until Tuesday. Pavlyuchenko will have an injection. Robbie Keane's got a knee problem. I'm sure one of them will be fit."
If Defoe or the other strikers don't prove their fitness, Redknapp could go for the same formation as he did against Stoke, with Peter Crouch employed as a lone forward.
Wide men Bale and Aaron Lennon were given the freedom to get forward and support the England man -- or, as was shown on Saturday, to score themselves.
One addition to the Spurs squad, former Arsenal and Chelsea centre-back William Gallas who signed a one-year deal as a free agent on Sunday, will not be eligible to face Young Boys.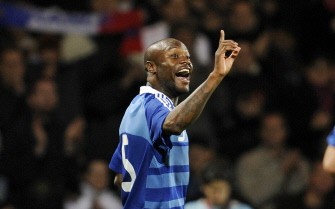 (AFP FILES) A picture taken on October 10, 2009 shows French defender William Gallas at the Roudourou stadium in Guingamp, western France. Former Arsenal captain William Gallas has completed his move to north London rivals Tottenham Hotspur.
The Swiss side are confident they can prevail in the second leg, but insist they will not go to White Hart Lane content merely to protect their lead.
"We still want to advance. I think the first leg showed us that we have chances to go through," said Switzerland midfielder David Degen.
"I am sure we can score a goal or even two in London and I certainly think we still have our chances."