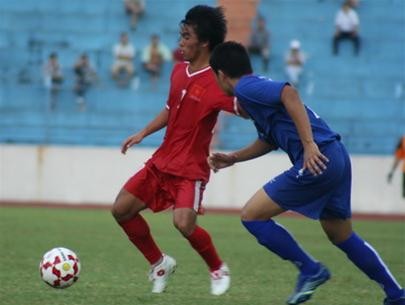 Viet Nam's striker Thai Duong (in red), who scored the equaliser.
The 34th Asia Students Football Tournament got underway at Chi Lang Stadium in Da Nang on Thursday.
It's the first time Viet Nam has hosted the tournament, which this year is being contested by teams from Thailand, Brunei, Sri Lanka, Malaysia, Indonesia, Singapore, China, South Korea, Macau, Hong Kong and Viet Nam.
The 11 teams are divided into three groups: Group A with Thailand, Brunei and Vietnam; Group B with Indonesia, Singapore, China and Sri Lanka; and Group C with Malaysia, the Republic of Korea, Macau and Hong Kong. After the opening ceremony, the host team had a 2-1 win over Thailand in a rainy match.
Earlier the same day, South Korea pulverized Macau 12-1, Malaysia downed Hong Kong 3-1, Indonesia thrashed Sri Lanka 7-1 and China beat Singapore 4-0.
The conference of the Asian Schools Football Federation is being held in conjunction with the tournament, again for the first time in Viet Nam.