LONDON, Aug 14, 2010 (AFP) - Premier League managers face an extra headache this season as they try to adapt to a new rule, described as "stupid" by Arsenal boss Arsene Wenger, which requires all top-flight teams to pick from a strict 25-man squad.
A Premier League edict brought in to encourage the development of young talent demands that only 25 players are eligible for selection by the 20 clubs in England's top tier, of which eight must be homegrown.
So while Sir Alex Ferguson, Wenger, Carlo Ancelotti and company would usually be concentrating on their tactics going into the first weekend of the Premier League campaign, this year they are also frantically juggling their squads to decide which players will make the cut for the September 1 deadline.
In addition to the 25-man group, clubs can also include as many players as they like who are under 21 on their overall squad list, and they are also available for selection.
But if a club doesn't have eight homegrown players, it is forced to name a smaller squad.
In exceptional circumstances, such as two goalkeepers out of three being injured, a replacement can be added to the original list of 25.
But aside from that, no changes to the 25 can be made before the transfer window reopens in January.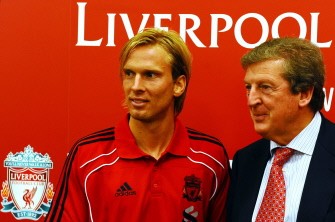 Liverpool Club's manager Roy Hodgson (R), poses for photographers with new signing, Christian Poulsen, following a press conference at their Melwood training ground in Liverpool on August 13, 2010. Liverpool completed the signing of Juventus midfielder Poulsen, paving the way for the possible departure of Argentina captain Javier Mascherano. AFP
Ostensibly the rule is supposed to help produce more British players at a time when the Premier League has more foreign players than any other league in the world.
England's failure at the World Cup has only intensified the debate about how to bring through more young stars.
But the Premier League's definition of 'home-grown' actually only requires the player to have been registered with an English or Welsh club for three years between their 16th and 21st birthdays, meaning a foreign youngster brought into the country could also qualify.
It is a rule widely criticised by top managers who are used to stockpiling players from around the globe to cope with the demands of challenging for trophies domestically and in Europe.
Arsenal boss Wenger admits it has already affected his thinking as he ponders whether to make more signings before the transfer window shuts on August 31.
"When everyone is fit and available, we have quite a strong squad," Wenger said. "Also, we have this stupid rule in place with the 25 players, so everybody has to not have too many players."
The rule means Tottenham are faced with the prospect of England defender Jonathan Woodgate, currently sidelined through injury, sitting in the stands even if he returns to fitness because boss Harry Redknapp can't risk giving up a space in his 25 to a player who may not be available for several months.
Manchester United manager Ferguson has the same problem with sidelined England midfielder Owen Hargreaves.
Across Manchester, City boss Roberto Mancini has 33 senior players and is likely to leave Craig Bellamy and Roque Santa Cruz - two strikers who cost a combined 20 million pounds - out of his 25 altogether due to his close-season spending spree.
Redknapp doesn't agree that the rule will help with youth development.
"If young players are good enough they'll come through anyway," he told the Daily Mail. "You get some kids who will get in the 25 and don't work on their game.
"You've got to deserve to be there, rather than just having them for the sake of it, token players."