SEPANG, Malaysia (AFP) – World champion Sebastien Vettel stormed to pole position for the Malaysian Grand Prix with a superb final drive in qualifying on Saturday.
The Red Bull ace from Germany narrowly beat Britain's Lewis Hamilton by just over one-tenth of a second in the dying moments of a thrilling session.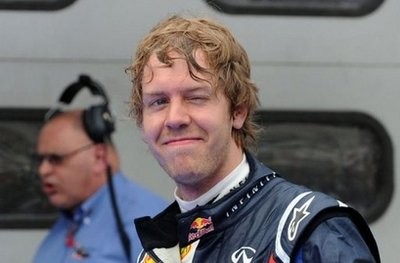 AFP - Sebastian Vettel winks as he celebrates his pole position after the qualifying session for Formula One's Malaysian Grand Prix at Sepang.
The drive by Vettel, who claimed the season's opening race from pole two weeks ago, set up a mouth-watering grid on Sunday with Red Bull team-mate Mark Webber qualifying third and McLaren's Jenson Button fourth.
Spaniard Fernando Alonso qualified fifth for Ferrari ahead of Germany's Nick Heidfeld. Brazilian Felipe Massa, in the second Ferrari, was seventh and Russian Vitaly Petrov was eighth for Renault.
German Nico Rosberg was ninth for Mercedes and Japanese Kamui Kobayashi 10th for Sauber.
The end-of-qualifying top-ten shoot-out began with a demonstration of sheer speed and audacity from Hamilton, who swept around the Sepang International Circuit in 1:35.00, a time that put him on top.
Button was nearly four-tenths adrift for second and was immediately overhauled by Vettel and then Webber. The top four were separated by less than four-tenths of a second after their first runs.
The rest of the top 10, including both Ferraris, remained in the pits, conserving tyres and staying cool, all pinning their hopes on a single run.
Alonso was first out in the final flurry along with Webber and Hamilton, and then Vettel. But the Spaniard settled for a solid lap before the Red Bulls and McLarens scrapped for pole.
Hamilton cut his time to 1:34.974 with another scintillating lap, but even that was not enough to curb the exuberant Vettel who clocked 1:34.870 in the Red Bull car he has dubbed 'Kinky Kylie', referring to its rear end.
Earlier, the first mini-session of qualifying was halted when a piece of bodywork from a Toro Rosso car flew on to the track.
After the re-start both Ferrari and McLaren appeared to be struggling and both teams had to switch to soft tyres in the closing stages to make sure of reaching the next stage.
Curiously, Webber was also slow in Q1 and wound up only 15th, just squeezing through to Q2.
The Australian was quickly up back up to speed in Q2 but the session was dominated by the two McLarens, Button clocking the best time just ahead of Hamilton, leaving Vettel and Webber third and fourth.
Seven-time champion Michael Schumacher was narrowly beaten to 11th in Q2, ruling him out of the final engrossing shoot-out.