MELBOURNE, Jan 25, 2011 (AFP) - Superfit Italian Francesca Schiavone refused to blame fatigue for her narrow quarter-final loss to Caroline Wozniacki on Tuesday, despite playing for nearly five hours two days earlier.
Schiavone, who played the longest match in women's Grand Slam history on Sunday, was up a set and a break at 3-1 in the second, before the world number one fought back to win 3-6, 6-3, 6-3.
The determined Schiavone saved three match points before pushing a backhand just wide to hand Denmark's Wozniacki the match.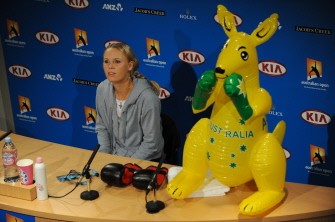 Caroline Wozniacki of Denmark speaks during a press conference next to an inflatable kangaroo and a pair of boxing gloves on the desk after she beat Francesca Shiavone. AFP
The reigning French Open champion was coming off Sunday's marathon fourth-round match, when she beat Russia's Kuznetsova in a record 4hr 44min, the third and final set alone lasting three hours.
However, the 30-year-old said she simply failed to take her chances against Wozniacki and dismissed suggestions tiredness played a big role.
"I had my chance anyway," she said. "Maybe in the third set I felt a little bit something physically, but it's not an excuse.
"I think I gave the best that I could do it."
Despite her heartbreaking loss, Schiavone was anything but devastated even though her quest for a second Grand Slam title had come to an end.
Her pain was eased by news she was set to reach a career-high ranking of world number four, the best ever achieved ever by an Italian woman. It's also equal with the highest ever by an Italian male, Adriano Pannatta in 1976.
"I am happy," she said, with a clenched fish raised in triumph. "I worked hard to arrive here (fourth ranking), so I'm very happy, it's fantastic. I want to keep going."
The veteran, who hit 41 winners to Wozniacki's 14 but made 46 unforced errors to the Dane's 15, said she was also enjoying her new-found celebrity as one of the players the fans love to watch.
"I'm happy for this," she said of her fan favourite status. "I've waited all my life, so now I'll take it.
"Last night I was walking and they said, 'Francesca, you give me a lot of emotions, thank you, I hope you win tomorrow'.
"I think it's something fantastic for me or any player."