LONDON, June 5, 2011 (AFP) - Ashley Young admits he was delighted to prove a point to Fabio Capello as the England winger came off the bench to rescue a 2-2 draw against Switzerland at Wembley.
Capello sprang a surprise when he dropped Young for Saturday's Euro 2012 qualifier even though the Aston Villa star had impressed in their victory over Wales in March.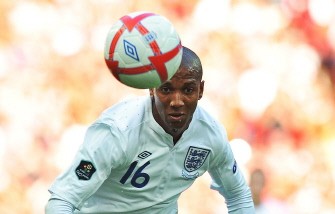 AFP - Ashley Young looks on during their UEFA Euro 2012 qualifying football match England vs Switzerland at Wembley
The England coach opted for James Milner and Theo Walcott as his wide men but England badly missed Young's guile as they fell 2-0 behind in the first half.
A Frank Lampard penalty before the break gave England renewed hope and Capello made partial amends for his mistake by sending on Young immediate after half-time.
The 25-year-old was determined to show he should have been on from the start and he took just six minutes to crash home the equaliser after good work from Leighton Baines.
With Young enjoying a free role behind Darren Bent, England looked a far more adventurous outfit and would have won but for two bad misses from Bent.
Young won the official man of the match award for his vibrant effort and he hopes the performance will make Capello restore him to the starting line-up for next season's qualifiers.
"It was nice to get myself on the scoresheet after coming off the bench," Young said.
"I was disappointed not to start but I took it on the chin. When you get the chance you come on you just want to impress and I felt I did that today.
"He's named the team and you just have to get on with it, but I have got the character and strength to grab my chance with two hands when I get it.
"It was a good move for my goal between James Milner and Leighton Baines. It was there to hit and that got us back level.
"We created a few chances to have won the game after that and it's disappointing we couldn't take them."
Although Young felt vindicated by his display, he insists he would rather have contributed nothing if it meant England could have taken all three points.
"I'm delighted to win man of the match but it would have been sweeter if we had got the three points. I would swap it for the points," he said.
"In the second half we were on the front foot, got the goal and created chances that would have gone in on another day but it wasn't meant to be."
Young will now meet with Aston Villa chairman Randy Lerner to discuss his future with the Premier League club.
He refused to reveal if he will ask to leave but it would be no surprise if he wants out with Manchester United and Liverpool reportedly interested in signing him.
"I said I would speak to the chairman and manager at the end of the season. I will speak to the chairman and take it from there. Then I'm going on holiday," he said.
Meanwhile, England midfielder Jack Wilshere admits he was feeling the strain of a long season in the final 20 minutes.
Wilshere was left out of England's Under-21 squad for this summer's European Championships because Arsenal boss Arsene Wenger felt the Gunners midfielder was too tired to play through the off-season.
The 19-year-old conceded that he struggled to keep going in the final minutes.
"I probably looked tired towards the end," he said. "At the end the tiredness probably showed but for the first 70 minutes I was fine. In the end I felt a bit tired and got a knock.
"It's been a crazy year. Arsene thought I would play 25 games this year and I ended up playing 60 games.
"I've got four weeks to rest now. I'm going to go away, get my feet up on a beach somewhere and rest for next year."
Wilshere also admitted Switzerland's second goal was largely due to Milner's failure to stay in the wall for Tranquillo Barnetta's free-kick, which allowed his shot to squirm past Joe Hart.
"It's hard. It was little mistakes. I think Milner came out of the wall. We have to get that right next time," he said.