Soon after arrival on June 4 in Ho Chi Minh City, former Swedish 'Arsenal Club' player Fredrik Ljungberg met with media and fans, expressing surprise at the love showered on him.
This is Fredrik Ljungberg's second visit to Vietnam. The first time was 18 years ago when he was also a player for 'Halmstads Club', and he took part in the 'Independence Cup' match in Thong Nhat soccer stadium.
Hundreds of reporters and fans were drawn to Ljungberg, seemingly interested in his achievements as also his personal and professional life and his relationship with Head Coach Wenger.
On the same day, Ljungberg attended an exchange meeting at Hoa Lu stadium and watched a football match of children from Arsenal Vinamilk Football Community Center.
The Hoang Anh Gia Lai Group and Eximbank are organizers for Ljungberg's visit to HCMC. After two days in Ho Chi Minh City, he will visit Jakarta in Indonesia and then Tokyo in Japan, as 'Arsenal Club' Ambassador.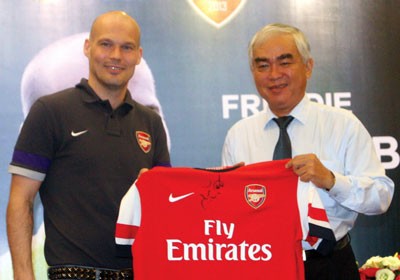 Fredrik Ljungberg (L) presents 'Arsenal Club' shirt to Le Hung Dung, Vice Chairman of VFF