Vietnamese star swimmer Nguyen Thi Anh Vien won a silver medal at the International Swimming Federation (FINA) World Cup 2015 in Moscow, Russia, in the women's 400m medley individual event on August 12.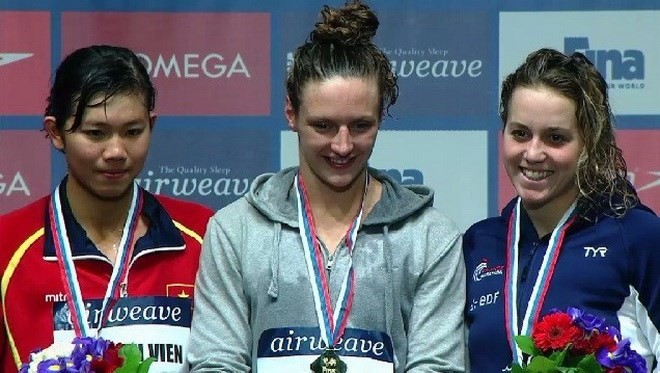 From left to right: Nguyen Thi Anh Vien, Katinka Hosszu, and Lara Grangeon on victory podium. (Source: VNA)
Vien made a good start and led the race for the first 200m before being caught up by Katinka Hosszu.
The Hungarian world champion, who dominated the women's medley individual events at the 2015 World Aquatics Championships in Kazan, Russia, last week easily maintained her lead to finish the race first at 4:36.25.
Vietnam completed the 400m distance at a time of 4:40.79 minutes to secure a silver medal, an upgrade from her bronze medal in the women's 200m medley individual event on August 11.
The bronze medal went to Lara Grangeon of France with 4:41.54.