Nguyen Quang Thuan, who is a younger brother of Vietnamese talent swimmer Nguyen Thi Anh Vien, has competed at the National Age Groups Finswimming Championships at Phu Tho Swimming Club in Ho Chi Minh City.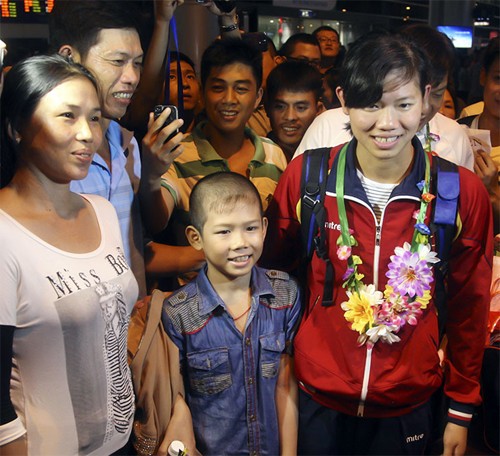 Anh Vien and her younger brother- Nguyen Quang Thuan. (Photo:SGGP)
The 9 year– old athlete competed for Defense Sports and physical training Center 4 (Sub-region 9).
Because Quang Thuan is too young to compete in the 2015 National Youth Swimming Championship, he is only registered to compete in the National Finswimming Championships under 11 years- old.
In the first competitive day, Thuan was ranked the seventh position in the men's 50 m backstroke. Yesterday, Thuan finished with a matching time of 36.55 in the men's 50 m butterfly swimming to stand the seventh position. Besides, Thuan was also ranked the 10th position with his victory of 1.15 in the men's 100m freestyle swimming.
On the same day, Nguyen Diep Phuong Tram with her achievement of 28 minutes 34 seconds won a gold medal in the women's 50m butterfly swimming and is set new record at the 2015 National Age Groups Finswimming Championships.