Nineteen teams from Malaysia, the Republic of Korea, Taiwan, Thailand, the USA and Viet Nam will compete in the Viet Nam Open Taekwondo Championships in Ho Chi Minh City from August 25 to 27, the organizers said Tuesday.
This year's title sponsor is Samsung Electronics, replacing fellow Korean corporation LG, which sponsored the event from 2002 to 2005.
Over three days at Phan Dinh Phung Indoor Stadium in District 3, exponents of the Korean martial art will spar in competition and perform the exhibition-style poomsae. Admission is free.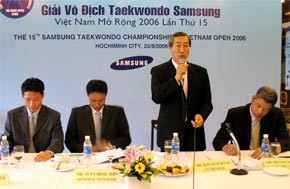 Kim Seon Kyoo from the Asian Taekwondo Union speaks at Tuesday's press conference (Photo: Tuong Thuy)
Korea and Taiwan are fielding six teams each, Viet Nam four, and Malaysia, Thailand and the USA one each. Viet Nam 1 is the national team, Viet Nam 2 represents Ho Chi Minh City, Viet Nam 3 represents provinces near Ho Chi Minh City, and Viet Nam 4 is from the Mekong Delta.
Truong Ngoc De, general secretary of the Viet Nam Taekwondo Association, said the tournament's observers would include Mr. Lee Kyu Seok, acting vice president of the Asian Taekwondo Union, and ATU executive board member Kim Seon Kyoo.
His association will rely heavily on the results at Phan Dinh Phung to select the Vietnamese team for next year's qualifiers for the 2008 Olympics in Beijing.
Mr. Kyoo from the ATU said that Viet Nam's winning three gold medals at the World Junior Championships in Ho Chi Minh City in July had surprised many countries and illustrated just how strongly Taekwondo was developing here.
He said he wanted to see a gold medal for Vietnam's taekwondo exponents at the Beijing Olympics – something long awaited since Tran Hieu Ngan won her silver at the 2000 Olympics in Sydney.
Mr. Yun Cheol Shin, general manager of Samsung in Viet Nam, said his company was thrilled with Viet Nam's three gold medals at the Samsung-sponsored World Junior Championships, a feat that had prompted his company to sponsor this year's tournament.
In the 2005 Viet Nam Taekwondo Open, Korea ended up with the most medals, much to nobody's surprise, followed in order by Viet Nam, Thailand and Australia.