Following her success at the recent 27th SEA Games in Myanmar, Vietnamese star swimmer Nguyen Thi Anh Vien is scheduled to attend an intensive training course in the US in January in preparation for next year's games.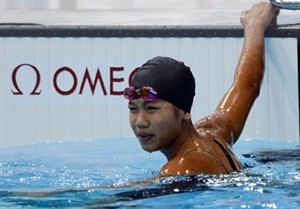 Nguyen Thi Anh Vien will compete at the World Swimming Championships in Barcelona, Spain, from July 19 to August 4 (Photo: voc.org.vn)
High hopes are pinned on the 16-year-old female swimmer that she will achieve even better results at the 17th Asian Games, scheduled for Incheon, the Republic of Korea, in 2014.
Vien is currently serving in the Vietnam's People Army. Her outstanding performance at the SEA Games has earned her respect and admiration from fellow competitors from Indonesia and Singapore.
She is hopeful to reach the top three in the women's backstroke 200m event at the coming Asian Games, said coach Dang Anh Tuan.
At the 27th SEA Games, the swimmer set a new mark in Vietnam's swimming history by becoming the first-ever Vietnamese to win three gold medals, two silvers and one bronze, in one singles Games in its 54-year history of the country's competing in the Games.
Vien polished her outstanding achievements by breaking two SEA Games records in the women's 200m backstroke and 400m medley events, with respective time of 2:14.80 and 4:46.16.