SYDNEY, Sept 12, 2011 (AFP) - "Twinkle toes" Sam Stosur was the toast of Australia on Monday after stunning Serena Williams to take the US Open title, with the country's last female Grand Slam winner leading the plaudits.
The 27-year-old Stosur kept her composure to see off home favourite and three-time champion Williams 6-2, 6-3 and win the first Grand Slam title of her career in New York on Sunday.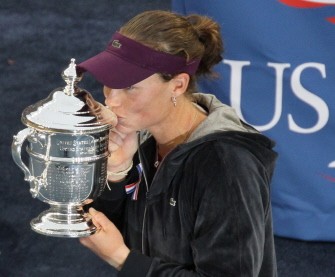 AFP - Samantha Stosur of Australia kisses her trophy after her women's finals match against Serena Williams
In doing so she became the first Australian woman to claim the US Open since Margaret Court in 1973, and the first to win a Grand Slam title since Evonne Goolagong at Wimbledon in 1980.
"It's a great thing for Australian tennis. She's come a long way and I'm just very proud of her," Goolagong told reporters.
Goolagong, a former world number one who won seven Grand Slam singles titles, said that Stosur ending Australia's Grand Slam drought was "absolutely wonderful".
"I have never seen her look so fit, she was moving well on the court. I do actually call her 'twinkle toes' because a few years ago she was not moving that well."
Goolagong said she believed the breakthrough could spark renewed interest in tennis in Australia, a sentiment echoed by Prime Minister Julia Gillard, who phoned Stosur to personally congratulate her after the triumph.
Stosur's path to the final included a third-round victory over Nadia Petrova that lasted three hours and 16 minutes -- a US Open women's record.
"She has shown great determination and skill to win the US Open and everyone involved with tennis in Australia will be celebrating with her today," said Gillard.
Stosur, playing her second career Grand Slam final after a runner-up finish in the French Open last year, quickly claimed the opening set and in the end completely out-played the 13-time Grand Slam champion.
Gillard said the victory boded well for the future of Australian tennis, which has struggled to produce a top-quality women's player since the Goolagong era.
"Her win will encourage the next generation of young Australian players to take to the court," said the prime minister.
"This is a great achievement and shows the future of Australian tennis is on the rise following other Grand Slam successes earlier this year, with Ashleigh Barty and Luke Saville winning the junior titles at Wimbledon."
Stosur's family watched the match at home on Australia's Gold Coast, with her father Tony telling ABC radio he hopes it will be the start of even greater things.
"She's just so focused on what she's doing, and she loves it too much," he said.
Her brother Daniel added that the victory would be life-changing.
"I think we're all in a bit of shock actually," he said.
"Not that she won, but just in the manner in which she did it. I think we're all just a bit stunned.
"I think this is life-changing," he said. "I think she's going to be inspiring young kids to get out and play."
Goolagong, who said that her hero when she was coming through was Court, Australia's greatest female player, agreed that Stosur would be a new role model.
"She (Court) was the one who pushed me all the way and she beat me most of the time," she said.
"There are going to be a lot of young kids looking up to Sam now, saying if she can do it, I can do it too."