MIAMI, April 2, 2011 (AFP) - Victoria Azarenka defeated Maria Sharapova 6-1, 6-4 here Saturday to win the WTA's prestigious Miami hardcourt crown for the second time.
Azarenka, the 21-year-old eighth seed from Belarus, took full advantage of Sharapova's struggles, as the former world number one held serve just once and committed 43 unforced errors.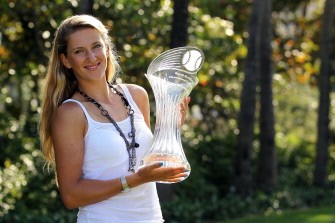 AFP - Azarenka poses for a photo with her trophy after she won the women's singles championship
"I played real well the first set," said Azarenka, who matched Sharapova shriek for shriek in a battle of two of the WTA's loudest players.
"Maria is such a great fighter, I knew she was going to fight to the end. She came up with great tennis at the end, and I had to hang in there. That's what paid off."
Azarenka had won nine straight games to take control when Sharapova dug in, finally holding serve and breaking Azarenka twice to close to 4-3 in the second set.
Once again, however, Sharapova was broken, giving Azarenka a 5-3 lead with her seventh double fault of the match.
In the next game, Sharapova saved two match points before Azarenka double-faulted on break point.
"I didn't feel like I was doing anything wrong," Azarenka said. "She was just playing really good, so I just had to hang in there."
But Sharapova couldn't follow up. Azarenka gave herself a third match point with a backhand winner down the line, and Sharapova then belted a forehand into the net to give Azarenka a second Miami title to go with her victory over Serena Williams in the 2009 final.
"It's a little bit too late to pick up the pace when you're down a set and 4-love," Sharapova said. "I wish I picked it up earlier, obviously. She did many things better than I did today."
The two Miami titles are the biggest of the Azarenka's career.
With the victory, Azarenka is projected to rise to number six in the world, the highest ranking of her career.
Although both Serena and Venus Williams missed the tournament, Azarenka's path to the final included victories over Kim Clijsters and Vera Zvonareva.
Known for her emotion on court, Azarenka stayed on an even keel on Saturday, and said she had reassessed her mental game after falling in the third round at Dubai in February.
"I changed my mentality a little bit," she said. "I'm enjoying myself so much on the court that there's no room for me for frustration.
"I just don't care if I lose - what I mean is not to create such a big drama out of it. If you lose the match, it's not the end of the world."
Despite her defeat, Sharapova is expected to return to the top 10 for the first time in two years.
She won three Grand Slam titles between 2004 and 2008, but has struggled to regain that form since surgery on her right shoulder late in 2008.
Since then she has won titles in Tokyo in in 2009 and Memphis and Strasbourg last year, but has yet to claim a major crown.
Sharapova also fell to 0-3 in Miami finals, adding another runner-up finish here to those in 2005 and 2006.
She has lost her last four finals appearances, yet Sharapova said the fact that she's reaching the title matches is encouraging.
"It means that I'm winning matches, and winning more of them," she said. "It has been a long road to get here. It's not over yet."
The men had the day off on Saturday, but will take center stage again Sunday when world number one Rafael Nadal takes on red-hot Novak Djokovic.
Djokovic, ranked number two in the world, is unbeaten in 2011, with 23 match victories and titles at the Australian Open, Dubai and Indian Wells.
The Serbian defeated Nadal in the final at Indian Wells two weeks ago, but insisted he'll be the underdog against the Spaniard on Sunday.
"I obviously wouldn't feel like a favorite," he said. "For me to win, I will be have to be on the top of my game."