MELBOURNE, Jan 28, 2010 (AFP) - A swag of high-profile injury withdrawals at the Australian Open has once again thrust the spotlight back on to the demands and length of the players' season.
Leading stars, led by Roger Federer and Novak Djokovic, have rated as the highest priority in men's tennis the shortening of the demanding playing season, which stretches from January to November.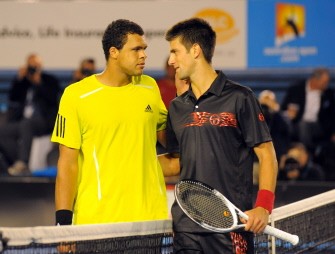 French tennis player Jo-Wilfried Tsonga (L) embraces Serbian opponent Novak Djokovic after victory in their quarter-final men's singles match against on the tenth day of play at the Australian Open tennis tournament in Melbourne early January 28, 2010. Tsonga won 7-6. 6-7. 1-6. 6-3. 6-1. AFP photo
Djokovic is on the ATP Players' Council along with Federer and Rafael Nadal and they are considering ways to streamline the burgeoning season and give the players a longer off-season to rest and recover.
This year's opening Grand Slam tournament has been attritional on the players with a large number, including Nadal, Marcos Baghdatis, Dinara Safina and Mikhail Youzhny all pulling out.
Andy Roddick, Lleyton Hewitt and Djokovic were others to leave the tournament with injuries or health issues.
In the past, a rush of retirements may have been blamed on the playing surface.
But the Rebound Ace hardcourts have been replaced by the more forgiving Plexicushion surface.
"These guys are superhuman athletes who play almost 12 months of the year, and you can see their bodies wearing out," sports marketing executive James Hird said on Thursday.
Tim Wood, the chief medical officer for the tournament and Tennis Australia, said the players were pushing themselves to the limit.
"It's a very fine line how far they can go and inevitably sometimes on court they go over the line," Wood said.
He said injuries, and occasional breakdowns on court, were part and parcel of tennis and other elite sports, and had to be accepted.
"What's happened here, though, is that, unfortunately, they have come in a rush and have involved high-profile players."
Djokovic said earlier in the tournament that the leading players were united in their push for a shorter season.
"That is the highest priority, because players feel like the season is just too long," Djokovic said.
"I think the most important thing is that the top players are together right now, and they share more or less the same opinion."
Federer said the length of the season was one of the issues currently under debate inside the ATP.
"We'll see if it's possible to change or not. As for the top guys, I think we'll come together and find a solution for that.