MELBOURNE, Jan 29, 2010 (AFP) - Roger Federer said the pressure was all on Andy Murray in Sunday's Australian Open final after he cruised past flat Frenchman Jo-Wilfried Tsonga in straight sets in their semi-final.
The Swiss top seed powered into a record 22nd Grand Slam final with a 6-2, 6-3, 6-2 win over the 2008 runner-up and 10th seed in just one hour 28 minutes on Rod Laver Arena on Friday.
Federer will chase his fourth Australian Open title and 16th Grand Slam against British fifth seed Murray.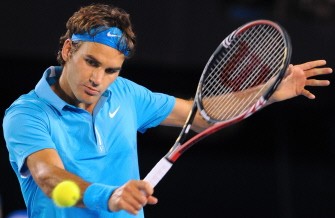 Federer hits a return against Jo-Wilfried Tsonga of France in their men's semi-final match on day 12 of the Australian Open tennis tournament in Melbourne on January 29, 2010. Federer won 6-2, 6-3, 6-2 to advance to the final against Andy Murray. AFP PHOTO
Federer, who beat the Scot in the 2008 US Open final, said the pressure will be more on the 22-year-old than him in the decider as Murray bids to become the first British man in 74 years to win a Grand Slam.
"He's in his second Grand Slam final now. I think the first one's always a bit tougher than the second one," he said.
"But now that he didn't win the first one, I think it doesn't help for the second one around.
"Plus he's playing me, who's won many Grand Slams prior to that, been able to win here three times so I know what it takes and how to do it, which is definitely an advantage."
The much-improved Murray holds a 6-4 lead over the world number one in their matches.
Tsonga looked a pale shadow of his best as Federer romped to his 18th appearance in the last 19 Grand Slam finals.
The Frenchman had won their last encounter, in three sets at Montreal last August, but it was an all-too-brief contest at their third career meeting.
"Obviously, I feel good about my game," Federer said. "I didn't expect something even close to this kind of scoreline, so it feels great.
"The crowd was rather on the quiet side towards the end because they also were a bit surprised I think at how fast it went.
"Maybe he was more mentally fatigued than physically, and that showed at the end."
Tsonga appeared to be physically struggling after his back-to-back five-setters against Nicolas Almagro and Novak Djokovic and Federer, playing in his seventh consecutive Australian semi-final, quickly pounced.
"I was more tired after the first set and it was tough to play against him today. He was really good, and that's it," Tsonga said.
The big Frenchman parked himself well behind the baseline as the cool Swiss dictated the rallies and controlled the points.
Federer, a renowned front-runner, broke Tsonga twice in the fourth and eighth games to capture the opening set in just 31 minutes and was quickly after the lethargic Frenchman in the second set.
The world number one was rolling through his service games and had Tsonga under pressure on his and broke him in the sixth game.
Federer, well in his comfort zone, raced to bring up two set points in the ninth game and served out for a two sets lead just over the hour.
It got worse for the ailing Tsonga in the final set, Federer breaking him again in the third and fifth games to stroll to victory.
"I felt like this could be a good match for me," Federer said.
"I'm hitting the ball well. I'm not panicking. Because Jo's a talented player, with a lot of potential, I'm sure we're going to see much more of him in the future.
"This is probably the last easy match I have against him."