CINCINNATI, Ohio, Aug 21, 2011 (AFP) - Fourth-seeded Russian Maria Sharapova survived an erratic performance to win the Cincinnati WTA title, prevailing 4-6, 7-6 (7/3), 6-3 over Serbia's Jelena Jankovic.
Sharapova, 24, earned her second title of the season after a triumph in Rome. She improved on her runner-up finish to Kim Clijsters here last year and gave herself a momentum boost prior to the US Open, the final Grand Slam of the season that starts on August 29 in New York.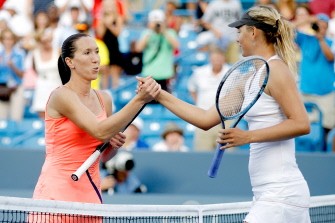 AFP - Jelena Jankovic of Serbia congratulates Maria Sharapova after their match
But it was no easy matter.
After an aggressive start saw Sharapova take a 4-1 lead, Jankovic went on a roll, breaking the Russian three times in a row and taking the opening set when Sharapova double-faulted.
The shift recalled last year's final, when Sharapova failed to convert three match points against Clijsters and ended up losing 2-6, 7-6 (7/4), 6-2.
Despite a stream of unforced errors -- including a total of 11 double faults -- Sharapova finally took the second set, winning the last five points of the tiebreaker.
"That's pretty much it, putting five points together that were well-played," Sharapova said.
The third set started with six straight breaks of serve before Sharapova held for a 4-3 lead.
Jankovic double-faulted twice to surrender the next game, leaving Sharapova to serve out the match after two hours and 49 minutes.
"It's been a great year for me so far," said Sharapova, a three-time Grand Slam champion who reached the final at Wimbledon last month. "It can always be better or worse. I'm definitely proud I've gone further than last year, after the disappointing loss here last year."
Jankovic, who has battled back, wrist and ankle injuries, was playing in just her second final of the season, after her runner-up finish in Monterrey.
"This match could have gone either way," she said. "I had my chances. It showed the match is not over until you shake the hand."
With her game in shape, this week appeared to offer her a golden opportunity thanks to wealth of injury absences.
Clijsters withdrew with the abdominal strain that will keep her from trying for a third straight US Open title.
Venus Williams was sidelined by a virus, Serena Williams pulled out early with a toe injury and a hand injury forced out third-seeded Victoria Azarenka.
Jankovic reached the semi-finals on a walkover when China's Peng Shuai withdrew with a hip injury.
Despite the defeat, Jankovic was upbeat about her week.
"I'm pretty unpredictable," she said. "If somebody told me I was going to play a final here, I would right away sign the paper."