MELBOURNE, Jan 25, 2011 (AFP) - World number one Caroline Wozniacki recovered from losing the first set to overcome Italian Francesca Schiavone 3-6, 6-3, 6-3 in the Australian Open quarter-finals on Tuesday.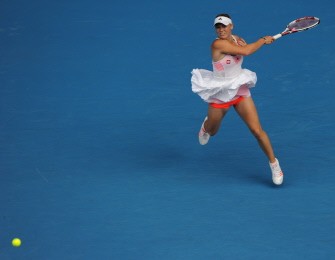 Caroline Wozniacki returns against Francesca Shiavone of Italy during their quarter-final women's singles match on January 25, 2011. AFP
Two days after beating Svetlana Kuznetsova in the longest women's match in Grand Slam history, Schiavone showed remarkable powers of recovery but eventually ran out of steam against her younger opponent.
Wozniacki, who is now assured of remaining as number one when the new rankings are published next week, moves into a semi-final against China's Li Na, who earlier beat German Andrea Petkovic 6-2, 6-4.
Nobody expected the 30-year-old French Open champion to recuperate in time to challenge an opponent 10 years her junior and at the top of her game.
However, the Italian hardly seemed bothered by fatigue in the first set as she covered the court with speed and agility.
Instead it was Wozniacki who seemed to struggle as the wily Schiavone moved her from side to side with precise groundstrokes and a deft touch around the net.
Wozniacki opened brightly and put pressure on Schiavone's serve, but was unable to produce a break despite having six chances in the first set.
She seemed bewildered at times by Schiavone's court coverage and determination, and when she stumbled serving at 4-5, the Italian pounced to break and take an intriguing opening set.
Wozniacki called for a trainer and went off court for treatment, coming back out with her left thigh heavily strapped, but she didn't seem restricted as Schiavone continued to move her around the court.
Schiavone broke early and went to 3-1 but finally began to show signs of tiredness and Wozniacki broke back, then went on a six-game streak to level the match and take an early break in the third.
The Italian broke back but she seemed to be feeling the effects of her match against Kuznetsova, with some poor shot selection and simple errors creeping into her game.
Wozniacki began to turn the screws and still Schiavone ran, but when the Dane pulled off a miraculous lob to secure break point to go to 5-2, the Schiavone's gallant challenge seemed over.
However Schiavone, who saved three match points against Kuznetsova, saved another three with some brilliant strokeplay to break back and put the pressure right back on the top seed.
The Italian got to 30-0 only for Wozniacki to come back again, winning four points in a row -- including the last on a Hawkeye challenge, when Schiavone pushed one wide -- to take a superb semi-final.
The win means Wozniacki retains her world number one status no matter what happens in the rest of the tournament, and keeps her on track for a maiden Grand Slam title.