MELBOURNE, Jan 29, 2010 (AFP) - WTA boss Stacey Allaster has dismissed any interest in the World Cup team tennis concept floated in the men's game recently, but admitted the Fed Cup needed refinement.
There has been talk in men's tennis of launching a new World Cup teams event because of disillusionment with the Davis Cup.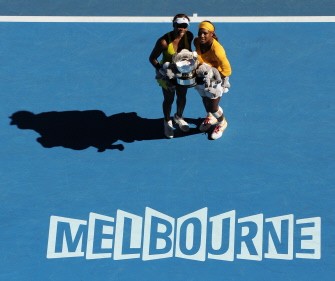 Serena Williams (R) and sister and partner Venus Williams of the US (L) pose with the winner's trophy following their victory over Cara Black of Zimbabwe and Liezel Huber of the US in the women's doubles final on day 12 of the Australian Open tennis tournament in Melbourne on January 29, 2010. AFP photo
But while Allaster said the continued absence of top players from Fed Cup ties was a concern, she backed retaining the time-honoured format as the premier teams event in women's tennis.
Allaster said she was more interested in fine-tuning the Fed Cup format and floated the radical idea of combining Fed Cup and Davis Cup ties.
"We have had no discussions with them," she said of the ATP and the World Cup.
"We have the Fed Cup and I'd like to see some tweaks to Fed Cup, but I think it is great and has its place in our sport.
"I know how important international team competition is to athlete development and in some countries it is the only tennis they have, so it is just trying to find a balance."
Allaster said she could see enormous benefits in bringing the Davis Cup and Fed Cup together.
She noted that an increasing number of tournaments around the world were combining men's and women's tennis.
"That would be exciting for our sport," she said.
"Men and women together is magical in tennis and the fans just love it. Just look at the success of the four Grand Slams.
"Combined events is part of our strategy and what happens at combined events is good for women's tennis and men's tennis."
With the 2010 Fed Cup kicking off next week, Allaster said it was disappointing that many of the world's best female players were not available.
"We want the players to play, you look at who is playing next week it is not the top players representing their countries," she said.
"It is a challenge of balancing tour commitments, Grand Slams and Fed Cup. It comes down to getting the right format that works for the member nations."