LONDON, Nov 9, 2010 (AFP) - John Terry hopes Chelsea can use the "kick up the backside" that came in a defeat by Liverpool to good use when they look to revive their title challenge against near neighbours Fulham on Wednesday.
The 2-0 reverse at Anfield meant Chelsea's lead at the top of the Premier League over second-placed Manchester United was cut to two points.
It was Chelsea's second league defeat of the season and raised further questions about the ability of Carlo Ancelotti's side to grind out results away from home, having previously lost at Manchester City, conceded points at Aston Villa and only just scraped victory at Blackburn Rovers.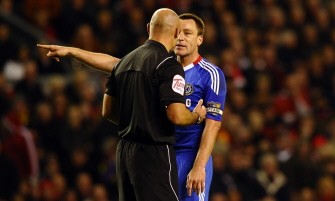 Chelsea's John Terry (R) speaks to referee Howard Webb during their English Premier League football match against Liverpool at Anfield in Liverpool on November 7, 2010. AFP
The Blues will return to more familiar surroundings when Fulham visit Stamford Bridge on Wednesday.
Chelsea's home record has been impressive, with four wins from four league games without conceding a goal this season, although they struggled to reach their usual level when they stuttered to a 2-0 victory over Wolves at the end of last month.
Terry accepts standards have dropped since the opening weeks of the season when Chelsea appeared unstoppable and has now demanded a positive response from his team-mates following the Liverpool defeat.
"I don't think we ever take things for granted at this club but maybe this is the kick up the backside we all needed," said the England defender.
"We haven't been playing too well recently but have been grinding out results," the centre-half added.
"We have another gear to find and we're still at the top of the Premier League, so we have to be encouraged by that, but we can't forget what has got us there in the first place.
"In the last couple of games away from home, we have started the game very slowly and we did the same against Liverpool. I am disappointed to lose in the manner we did. We lost it in the first half."
Florent Malouda echoed Terry's comments by saying: "We need more consistency in our away performances, because from the beginning of the season we had results but we are not always playing with control of the game.
"We know it will be difficult all season, we are the champions and when teams receive the champions at their home it is a good opportunity for them to show they can achieve great performances against good teams."
Didier Drogba started the Liverpool game on the bench after suffering from an illness but should return to the starting line up against Mark Hughes's side.
Frank Lampard, though, will again be missing as he struggles to recover from a groin injury, and the England man's absence has only highlighted the lack of goals that come from Chelsea's midfield when they must do without him.
"Frank Lampard will not be fit for Wednesday but I hope he will be back for Sunderland," said Ancelotti.
"We have to look forward to the next game against Fulham. We are in the better position compared to the other teams.
"Psychologically it can happen to lose a game but we are top of the table and we have to win the next game."
Hughes will have to make do without left-back Carlos Salcido, after he was forced off following a rash tackle from Aston Villa's Luke Young over the weekend.
Salcido had impressed since arriving at Craven Cottage from PSV Eindhoven in the summer and his loss will be a blow to Hughes, who is uncertain as to how long the Mexican will be on the sidelines.
"I would imagine it's ligament damage. I don't want to say how long but it'll be a number of weeks."