Golfer Wasin Sripattranusorn of Thailand won the Vietnam Amateur Open with a four-round total of 274 (14-under-par) on Sunday.

The 19-year-old man came first in the three-day tournament held at Dalat Palace Golf Club in the upland city of Dalat.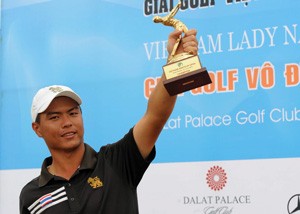 Wasin Sripattranusorn of Thailand hoists the trophy after claiming the Vietnam Amateur Open on Sunday at Dalat Palace Golf Club. (Photo: tournament organizers)
He made it one day after 15-year-old Ngo Bao Nghi of Vietnam repeated as winner of the 54-hole Vietnam Ladies National Championship.
"I am very glad to win," said Wasin, who flashed a huge smile after chipping in for birdie on the last hole. "I prepared a lot for this tournament. I stuck to a game plan like the world's top 10 players do, and it paid off."
Vietnam's Trinh Van Tho had a successful Sunday. The Ho Chi Minh City golfer shot 69 to climb into eighth place overall. Countryman Andrew Hung Pham also finished in the top 10.
"This [year's field] was the strongest field we've ever had, and the results prove that," said tournament director Jeff Puchalski, of Fore Golf Asia.
"The Vietnamese are getting a chance now to compete against the best in Southeast Asia. Seeing what level they need to play at makes them better players," he added.
The Vietnam Amateur Open and Vietnam Ladies National Championship have been held since their inceptions at Dalat Palace Golf Club, widely considered the country's top course.
The top 10 men and top 5 women scores follow.
MEN
1 Wasin Sripattranusorn (Thailand) 274 (-14)
2 Peter Villaber (Philippines) 278 (-10)
3 Mohd Iszaimi Bin Ismail (Malaysia) 279 (-9)
4 Johnson Poh (Singapore) 283 (-5)
5 Supakorn Uthaipat (Thailand) 255 (-3)
6 Art Abole (Philippines) 290 (+2)
Gregory Foo (Singapore) 290 (+2)
8 Trinh Van Tho (Vietnam) 291 (+3)
Mohamad Azman Basharudin (Malaysia) 291 (+3)
10 Andrew Hung Pham (Vietnam) 293 (+5)
WOMEN
1 Ngo Bao Nghi (Vietnam) 224 (+8)
2 Nguyen Thi Hang (Vietnam) 236 (+20)
3 Nguyen Thi Ngoc Dung (Vietnam) 239 (+23)
4 Ngo Ngoc Nhi (Vietnam) 241 (+25)
5 Tran Thi Thanh (Vietnam) 245 (+29)