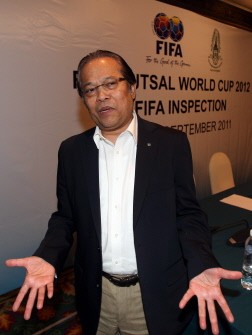 AFP - Football Association of Thailand (FAT) president Worawi Makudi reacts during a press conference in Bangkok on September 18, 2011.
BANGKOK, Sept 18, 2011 (AFP) - The head of Thailand's football association on Sunday denied allegations that he had personally benefited from development grants spent on building facilities on land that he owned.
Worawi Makudi said the facilities for FIFA's GOAL development programme at the national football centre on the outskirts of Bangkok were constructed on land that he had transferred to the Football Association of Thailand.
"The construction process followed FIFA procedures," he told a news conference. "All money from FIFA was transferred to contractors, not me."
FIFA, football's governing body, said in a statement last week that it had requested an explanation from Worawi, a member of the organisation's executive committee and one of the most influential men in Asian football.
The statement said Worawi could face a possible ethics investigation if there is any evidence to support claims against the official.
Worawi is closely linked to disgraced Asian Football Confederation chief Mohamed Bin Hammam, who was banned for life in July after being found guilty of bribery by a FIFA ethics committee.
Worawi, Thailand's representative to FIFA, in May vehemently denied allegations of corruption levelled against him by David Triesman, the former chairman of England's 2018 World Cup bid.
The Thai chief was later cleared by FIFA and in June he was appointed for a third term as president of the Football Association of Thailand.