Thailand beat Australia in the final of the ASEAN Football Federation (AFF) U19 Championships after the penalty shoot-out in Ho Chi Minh City Aug. 12, and Vietnam won the bronze medal after defeating Malaysia 3-0.
In the knock-out for the third place at Thong Nhat Stadium, Vietnam dominated the match right after the start. The hosts created many opportunities. Minh Tuan's shot hit the crossbar before Dinh Bao opened the scoring with his strong strike in the 26th minute.
Quoc Phuong doubled the score for Vietnam with a free kick ten minutes later.
After the break, Malaysia tried to fight back but in the 61st minute Mohd Fazail was sent off for his serious fault and Thamil Ambumamee got another red card for his reaction to the referee's decision.
From this moment, nine-men Malaysia played mainly in defence. In the 68th minute Minh Tuan widened the gap for Vietnam when he headed from The Nhat's cross.
The final followed the game for the third place at the same stadium. Thailand drew Australia 2-2 after 120 minutes and won 3-2 in the penalty shoot-out.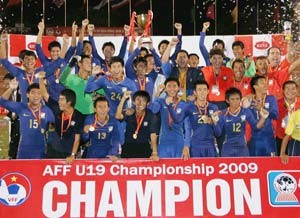 Thailand become the champions at Thong Nhat Stadium in Hochiminh City Aug. 12 (Photo: SGGP)
In the first half, both teams played in a slow pace. The Thais played defensively and conducted counter-attacks against the attacks from the other side. No goals were scored.
After the break, Australia continued playing higher than their opponents but the Thais took the lead after Natthawut Khamrin netted with his fine shot from a close range in the 68th minute.
Dylan Mcgowan equalized for Australia with a header from a free kick in the final minutes.
During the two extra halves, Adisak Krisorn pushed Thailand ahead again when he sent the ball into the net from a close range in the 100th minute. In the 119th minute Jared Lum scored for Australia.
The penalty shoot-out saw Thailand beat Australia 3-2.
The tournament drew eight teams namely Australia, Cambodia, East Timor, Malaysia, Myanmar, Singapore, Thailand and Vietnam. The Football Association of Australia is a member of the ASEAN Football Federation.