Hosts Thailand topped the table on the first day of the King's Cup tournament on Sunday after beating Viet Nam 2-1, while Singapore and Kazakhstan drew in a scoreless game.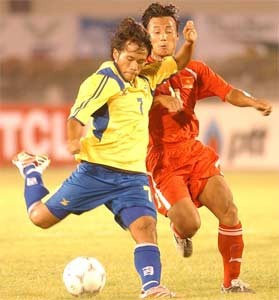 Thai playmaker Thonglao Datsakorn (R) shoots when Vietnamese midfielder Le Hong Minh tries to stop.
The Thais secured their victory with two goals from striker Sarayuth Chaikamdee and playmaker Thonglao Datsakorn after Viet Nam forward Phan Thanh Binh put his side ahead on 35 minutes.

Binh silenced the crowd when he fired home on the turn Thai keeper Kittisak Rawangpa failed to collect a header deep into the box from striker Le Cong Vinh.
But Viet Nam's lead was very short. Thailand equalized just the next minute after a cross beat Viet Nam keeper Bui Quang Huy and landed on the head of the unmarked Sarayuth.
Thailand put more pressure after the break and took the lead on 61 minutes when evergreen striker Kiatisak 'Zico' Senamuang threaded the ball through the Vietnamese defense system for Thonglao to net from six meters.
In the last minutes towards the final whistle, right-side winger Le Tan Tai secured the ball from deep in the Viet Nam area and rushed to the Thai goal, passing two Thai players and giving Le Cong Vinh a cross but Vinh's shot was over the bar when only the Thai keeper was in front of him.
Kazakhstan, Singapore, Thailand and Viet Nam will play in Bangkok again tomorrow and Thursday. The top two teams will meet in the final on Sunday to wrap up the four-team friendship tournament, which is the last chance for Viet Nam to prepare for the ASEAN Football Championship in January and February.
Related articles
Footballers Start Training for Tough Events
Tough draw for Viet Nam in Asean Football Cup