A hard fought 2-2 draw against hosts Vietnam yesterday gave Thailand the T&T Football Tournament championship.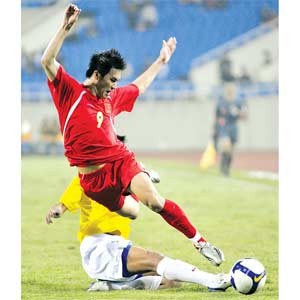 A Thai player battles for the ball with VN's Cong Vinh (Red T-shirt) (Photo: SGGP)
Vietnam's coach Henrique Calisto made some changes to the lineup with defenders Minh Phuong and Tan Tai replacing Minh Chau and Vu Phong.  
Though the host team expected to come out attacking at the very outset, the first dangerous shot at the goal was by Thailand. In the 7th minute, Niweat Siriwong found the crossbar, and four minutes later, Tai Em produced the same result for the hosts, with his shot from the left wing beating Thai custodian Kittisak Rawangpa but failing to go into the net. 
Vietnamese goal keeper Hong Son was kept busy by the opposition, with Datsakorn Thonglao in the 28th minute finding the crossbar yet another time for his team. But Nattaporn Phanrit scored in the 33rd minute and Thailand closed the first half with 1-0 lead.  
In the 52nd minute, midfielder Minh Phuong and striker Viet Thang combined well to restore parity for the hosts.  
During the last minutes of the second half, Thailand inched ahead again Teerasil Dangda latched on to a Thonglao's free kick in the 81st minute.  
The home team refused to give up and launched a series of counterattacks that bore result seven minutes later with a curling free kick from Minh Phuong beating the Thai goalie. The draw cost the host team the championship since they collected less points than Thailand.  
Thailand received the prize money of US$40,000 while Vietnam took US$20,000 as the runner up. The Democratic People's Republic of Korea received US$10,000 for finishing third.
Related article:

VN Draws DPRK to Keep T&T Tournament Alive