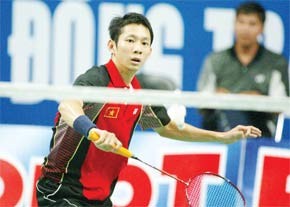 Nguyen Tien Minh competes at the tournament (Photo: SGGP)
Viet Nam's Nguyen Tien Minh won the championship in the men's singles of the Robot Viet Nam Satellite on April 23, 2006. This is the first ever title for a Vietnamese in the tournament since its inception in 2000.
Ranked fourth in the tournament and 68 in the world, Minh outplayed his Indonesian opponent, Jeffer Rosobin, (world No 44) with two games 21-7 and 21-12. This is his second title in the Satellite series since his extraordinary feat winning the 2004 Magnum Malaysia Satellite with a shocking victory over Malaysia's Lee Tsuen Seng.
Minh, the No.1 badminton player of Viet Nam, received US$1,200 for his championship. The Ho Chi Minh City Badminton Association gave him a VND15 million bonus. He also received a VND20 million bonus from Robot Company the event's main sponsor, VND5 million from local pop star Dam Vinh Hung.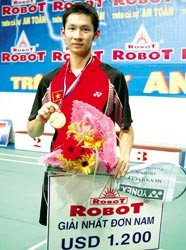 Nguyen Tien Minh takes the gold medal (Photo: SGGP)
Meanwhile, the other four remaining event titles were shared between Korean and Thai players.
Korea's Jang Soo Young took the women's singles title and Salakjit Ponsana of Thailand came second. Korean duo Kim Min Jung / Oh Seul Ki outplayed Thai pair of Aroonkesorn / Voravichitchaikul 2-1 to win the women's doubles title.
In the men's doubles, Njoto and Wiratama of Korea defeated Prapakamol and Ngernsrisuk of Thailand 2-0 in the final. The third position belonged to Khoo / Abdul of Malaysia.
In the mixed doubles, Songphon / Kunchala of Thailand defeated Andul / Baharum of Malaysia 2-0 in the final to rank first. Jung tae Keuk and Kim Min Jung of Korea came third. 

The Robot Viet Nam Satellite Badminton Tournament is part of the Asian Satellite series. It took place at Phan Dinh Phung Stadium in Ho Chi Minh City from April 19 to 23 with the competition of 177 players from Cambodia, Hong Kong, Indonesia, Japan, Korea, Laos, Malaysia, New Zealand, the Philippines, Singapore, Thailand and Viet Nam.
Related articles
Viet Nam Satellite Badminton Tournament Draws Ace Players