Home favorite and world No.7 Nguyen Tien Minh secured the title in the Grand Prix Vietnam Open 2009 on Sunday after beating Malaysian ace Chong Wei Feng in the men's final.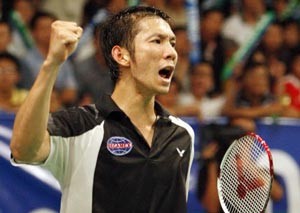 Vietnam's Nguyen Tien Minh seen during the Vietnam Open final against Malaysia's Chong Wei Feng on Oct. 11 (Photo: SGGP)
First-seeded Minh beat Wei Feng, the fourth seed, 21-7 in the first set. However, the Malaysian changed his tactics in the second and took the lead. Minh tried to follow but the gap was too big and Wei Feng finished at 21-19.
Minh took the lead at 8-3 in the final set while Wei Feng was losing his fitness. The Vietnamese ended up at 21-14 and pocketed US$3,750. He also accumulated more points from the World Badminton Federation.
Tien Minh has steadily improved his ranking following his recent good run and is currently ranked World No 7. One month earlier, it was ninth.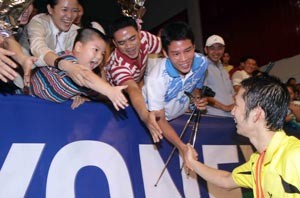 Nguyen Tien Minh (R) shares happiness with fans at Phan Dinh Phung Stadium after becoming the men's singles champion (Photo: SGGP)
The US$50,000 prize cash event saw Indonesia's Fransisca Ratnasari beat Tai Tzu Ying from Taiwan 21-19, 15-21, 21-13 in the final of the women's singles.
In the men's doubles, Indonesia's Luluk Hadiyanto-Joko Riyadi won the title after defeating Thien How and Ong Soon Hock of Malaysia
The winners in the women's doubles were Anneke Feinya Agustine-Annisa Wahyuni of Indonesia, who beat Indonesians Savitree Amitrapai-Vacharaporn Munkit 21-14, 21-13.
In the mixed doubles, Flandy Limpele of Indonesia and Cheng Wen Hsing from Taiwan defeated Chan Peng Soon-Goh Liu Ying of Malaysia 25-23, 21-19 in the final.
A total of 202 players took part in the Grand Prix Vietnam Open from Oct. 6 to 11 at Phan Dinh Phung Stadium.
The competitors come from 14 countries and territories: Australia, Hong Kong, Indonesia, Japan, Kazakhstan, Laos, Malaysia, Philippines, Singapore, Taiwan, Thailand, USA, Vietnam and the Wales.