MELBOURNE, Jan 18, 2011 (AFP) - Japanese veteran Kimiko Date-Krumm, 40, was left cursing an injury time-out by her opponent which stopped her agonisingly short of a historic Australian Open win on Tuesday.
Date-Krumm was on the verge of becoming the second oldest player to win at the tournament after leading 4-1 in the third set against Polish 12th seed Agnieskza Radwanska.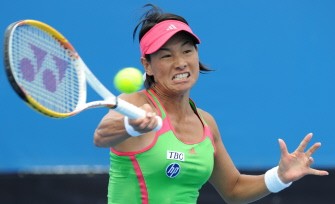 Kimiko plays a stroke during her first round match against Agnieszka Radwanska of Poland on January 18, 2011. AFP
But Radwanska called for an injury timeout for attention to her lower back, a delay which Date-Krumm said left her cold and cramping up. When play resumed the Pole won six of the next seven games to take it 6-4, 4-6, 7-5.
"I was leading 4-1 in the third set, and then she took the medical timeout," said Date-Krumm. "For my age and for my case, it's not easy. Always I have a problem after opponent to get medical timeout.
"My body got cold. After that I got a little bit of cramp, so it was difficult to concentrate on the ball, focus on the ball. I couldn't move very well."
However, Date-Krumm stopped short of accusing her opponent of gamesmanship.
"It is not illegal to get medical timeout, so it's no problem," she said.
Despite her body letting her down in the final stages, and admitting she would have struggled to recover in time for the second round, Date-Krumm said she had no plans of retirement.
"I will try to find out something when I go back to Japan, ask to my physio or doctor how to continue to keep high level," she said. "Next time I don't want to lose like that."
Date-Krumm also said she wasn't worried by the massive age advantage enjoyed by her opponents. Radwanska, 21, was born in 1989, the same year Date-Krumm turned professional.
"I don't think about the age," she said. "I just try my best."
Britain's Virginia Wade was one month older than Date-Krumm when she reached the Australian Open's second round in 1985.