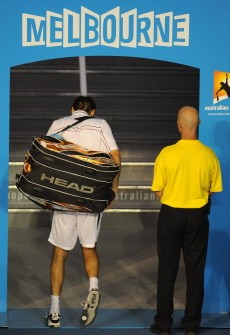 Marin Cilic (L) leaves the court after defeat in his men's singles semi-final match against British opponent Andy Murray at the Australian Open tennis tournament in Melbourne on January 28, 2010. AFP PHOTO
MELBOURNE, Jan 28, 2010 (AFP) - Marin Cilic has spent more time on court than any other player at the Australian Open and his semi-final against Andy Murray proved a match too far.
The Croat had spent 18 hours eight minutes on court for his five matches before the showdown with the Scot, eight hours more than his opponent.
It caught up with him as he visibly wilted after taking the first set to crash out 3-6, 6-4, 6-4, 6-2 in just over three hours.
He said it was a factor but didn't want to take anything away from Murray becoming the first Briton since 1977 to make the final here.
"I wouldn't use my tiredness as an excuse for losing this match," he said.
"I think he deserved to win.
"Today I wouldn't say that I was a hundred percent, but I gave my best, and that's the most important thing."
The 6ft 6in (1.98 metres) Cilic certainly left the tournament with his head held high after becoming the first Croatian to reach an Australian Open semi-final and moving into the top 10 for the first time in his career.
It makes him only the fourth Croat to break into the top 10 -- Mario Ancic, Ivan Ljubicic and Goran Ivanisevic being the others.
"I wasn't thinking that I was going to get this far," admitted the 21-year-old giant, who is coached by Australian Bob Brett, who once guided Boris Becker and Ivanisevic.
"But I knew I played well in the beginning of the year. I was going through the draw and it was tough.
"Also in my second round I had tough five-setter. Since then to see that I got to semis, it's an amazing experience and amazing result.
"I think it's one big step forward for myself."
His night was marred somewhat by a fan wearing a Croatian football jersey breaching security to get on court and congratulate him after the match.
Asked about it in his post-match press conference, he said: "I think the fan got excited and he wanted to shake my hand, so I gave him a present. I shook his hand."
Cilic came into the tournament after defending his title at Chennai on his way to Australia.