MOSCOW, April 7, 2010 (AFP) - Italian champions Inter Milan have shed themselves of their inferiority complex regarding the Champions League and could even go all the way and win it, claimed their colourful Portuguese coach Jose Mourinho.
The 47-year-old was speaking after a Wesley Sneijder freekick had seen Inter beat Russian side CSKA Moscow 1-0 in their quarter-final second leg clash to complete a comfortable 2-0 aggregate victory and book a place in the last four for the first time in seven years.
Mourinho, who is the first coach to guide three different teams to the semi-finals although Bayern Munich's Louis van Gaal could join him if they beat Manchester United on Wednesday, said that Inter would approach the semi-finals - where they will play Barcelona - in a completely different mental state.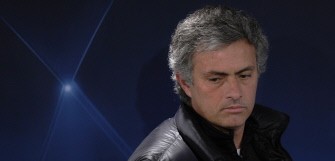 Jose Mourinho attends a press conference on the eve of their 2nd leg Quarter final match against CSKA in Moscow on April 5, 2010. AFP PHOTO
"One can say that there has been a complete change for Inter in this competition (referring to three successive exits in the last 16 the past three years)," said Mourinho who coached Porto to the 2004 trophy and Chelsea to two semi-finals.
"That is to say, the team is confident this time round in the Champions League.
"And now, anything could happen. We could win it or we might not, but at the very least Inter will approach this competition in the future in a totally different state of mind.
"It will approach matches differently, it is more solid and better defensively."
Mourinho, who is in his second season with Inter though he indicated last week that he would love to be elsewhere as he is unhappy with Italian football, conceded that the performance against CSKA, who were reduced to 10 men in the 49th minute, had not been the greatest, but that was not the point.
"Even if we weren't at our best in terms of how we dealt with the ball when we had possession and should have scored more than once, we nevertheless knew how to manage and control the game comfortably," said Mourinho.
"And that also is a great quality. All that is very important for a team in the Champions League semi-finals, first in the domestic championship and a semi-finalist in the Italian Cup.
"It's true that it wasn't a great match, leave the spectacle to winning the semi-final.
"In Moscow there were 500 of our supporters and we had the job of reaching the semi-finals, not to put on a spectacular performance. We achieved that and now we can dream."
Mourinho reflected on his previous experiences at the last four stage, which have seen him experience the ups and downs.
"Personally, it is the fourth time that I have reached the semi-finals: I've won the trophy once, another time I lost in the semi-finals on penalties and another time I was knocked out by a goal that wasn't a goal.
"This time we will see."