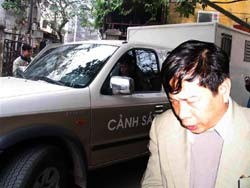 Bui Tien Dung
Bui Tien Dung, general director of Project Management Unit 18 (PMU 18) under the Ministry of Transport, has told police that he spent US$1.8 million in bets on English Premier League and Spanish Liga matches from late September to mid-December 2005.
Police arrested him on January 20, 2006 for allegations on spending millions of dollars on illegal football betting. Investigators are tracking down the source of the money and those involved.
Several other officials are suspected of being involved in the same betting network. Bui Quang Hung, an arrested police officer, is one of the members of the ring. Police have found out many irrelevant details from his computer and are tracking down the ring's bosses.
Data from the computer show that Hung had links with other gambling rings in Macau and Moscow.
Besides this scandal, police are investigating three other cases. The first case is about some players of U-23 Viet Nam who were involved in match fixing in the Southeast Asian Games in December 2005. The second is the fact that many referees have taken bribes for the past few years. The third scandal is how Song Lam Nghe An Club's management used money to influence matches in the Vietnamese league 2001 to get the trophy.