Ministry of Culture, Sports and Tourism yesterday granted certificates to four teams and 187 individuals who had great achievements at domestic and international competitions last year.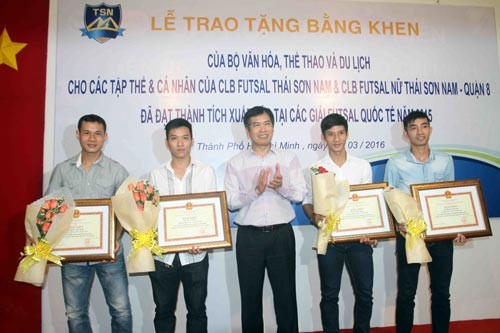 Players of Thai Son Nam Club recieve certificate from Ministry of Culture, Sports and Tourism.
Two of the four best teams belonged to Thai Son Nam (TSN) Club, including TSN Club for female and male.
In 2015, the male players of Thai Son Nam Club won the bronze medal at AFC Futsal Championship in Iran; meanwhile, the female players of the club also owned gold medal at Southeast Asian Futsal Club competition in Thailand.
At the ceremony, Head of the General Department of Sports Vuong Bich Thang highly appreciated achievements and contributions from teams and individuals of Thai Son Nam Club for the country's sport.
He also hoped that the club will continue to harvest further successes in next time.

The event was organized at Thong Nhat Sports Stadium in Ho Chi Minh City.