MELBOURNE, Jan 28, 2010 (AFP) - Jo-Wilfried Tsonga is emboldened by his new-found five-sets experience to give him a fighting chance of a boilover win against Roger Federer in their Australian Open semi-final on Friday.
Up until this year's opening Grand Slam, the French 10th seed had never been put through the physical demands of a five-setter, yet the 2008 Open finalist has polished off two in succession against Nicolas Almagro and Novak Djokovic.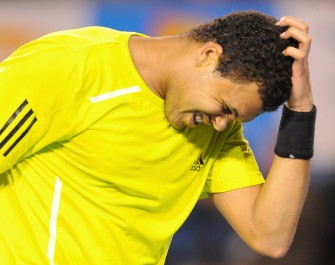 Tsonga gestures during his quarter-final men's singles match against Serbian opponent Novak Djokovic on the tenth day of play at the Australian Open tennis tournament in Melbourne on January 27, 2010. AFP photo
Now Tsonga, who bears a striking physical resemblance to former champion boxed Muhammad Ali, is one match away from playing in his second Australian final, but to do that he faces the greatest Grand Slam warrior of them all.
Tsonga, who lost to Djokovic in the 2008 final, came from 1-5 down in the third set to upset Federer in the quarter-finals of the ATP World Tour Masters in Montreal last August.
That has given him some heart for the big challenge confronting here against the Swiss star, who is playing in an unprecedented 23rd consecutive Grand Slam semi-final.
"Of course. I know I can do that, but it (Montreal win) was completely different," Tsonga said. "Now I have to win three sets, and it's going to be difficult for sure."
The athletic Frenchman plays a high-risk attacking game and will be looking to impose himself on the world number one.
"I feel good. My last two matches were tough, and I did it. Why not against Roger?
"I will be ready. It's going to be tough, he's the best player ever. I have to play my best tennis.
Tsonga believes he will be a different player to the one who lost the final two years ago.
"Maybe I'm physically stronger. I think I have more than one way to play, and this is why I'm better."
But plenty have tried and failed to master Federer in his favoured best-of-five set domain.
The cool Swiss champion is chasing his fourth Australian Open crown and 16th Grand Slam title and has been honed by two strong performances against Lleyton Hewitt and in-form Russian Nikolay Davydenko.
The last time Federer failed to make a Grand Slam final was here in 2008 when he lost in straight sets to eventual champion Djokovic in the semi-final.
What makes him such a special and difficult player to beat is his ability to adapt, his variety of shotmaking, his mental toughness under fire and his physical durability.
He was put under extreme pressure by Davydenko in their quarter-final, falling behind only to hit back spectacularly and take it in four sets.
"I was in a tough situation at 6-2, 3-1 down and 15-40 on my serve, but that's the beauty of best-of-five sets," Federer said.
Federer is a tough proposition, particularly if he gets away to a flying start.
"I'm a great frontrunner, so I feel like if he gets the first set, it's going to be a really close match. Whereas if I win the first set, it's always going to be hard for him."
The winner will face either British fifth seed Andy Murray or 14th seeded Croatian Marin Cilic in Sunday's final.