Since 2001, Quang Liem has been known as a potential chess player with a collection of medals in not only the national but also the the international tournament.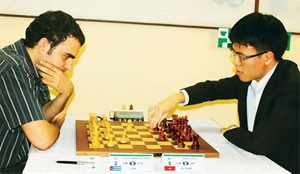 Vietnam's Le Quang Liem (right) in his match with Cuba's Dominguez Perez Leinier
The year of 2011 is actually a memorable year of Quang Liem when he has risen up to the Elite Group of international grandmasters and moved quickly from 49th position to 40th one, and now, stands at 34th place in the world ranking, only after the 46th Capablanca Memorial in Cuba ended on May 22nd.
We do not know since when the HCMC boy caught much interest of national chess fans like that. Day after day, the interest is even renovated and turns out to be irresistible attraction thanks to a series of international accomplishments he has received in the last few years.
Born on March 13th, 1991, at the age of seven, Quang Liem practiced chess with his older brother Quang Long and then joined a gifted class on chess in HCMC of coach Lam Minh Chau.
Only in less than nine years, Quang Liem has got a remarkable collection of medals from the national to the world tournaments. Some can be listed here as the silver medals the Under-10 Asian Youth Chess Championship and Under-10 World Youth Chess Championship in 2001, the second place in Under-12 World Youth Chess Championship in 2003, champion title in Under-14 World Youth Chess Championship in 2005, silver medal in Men's Standard Individual of chess competition in the 23rd SEA Games.
With a series of achievements in 2010, namely champion in the 2010 Aeroflot Open and runner-up in the 2010 Dortmund Sparkassen Chess Meeting, Quang Liem's elo rating was 2689 and he reached the Top 50 players, together with Top 10 Juniors in 2010. After the lost of gold medal for Men's individual rapid in the 16th ASIAD, Quang Liem's Elo rating was subtracted and he dropped down to 79th position in the Top List.
  
With the goal of 2700 Elo ratings or more, he tried his best and successfully won the champion title in the 2011 Aeroflot Open, thanks to his important win to America's Gata Kamsky (2730), former champion of World Cup and a tie with Uzbekistan's Rustam Kasimdzhanov (2695), champion of the 2010 Asian Games.
A new phenomenon
Despite his youngest age and lowest Elo rating, Quang Liem still surprisingly led the 46th Capablanca Memorial in Cuba with the first position after nine rounds. Defeated by Ukraine's Ivanchuk Vassily in round 10, Quang Liem had to stand at the second place.
With his excellent performance in this tournament, Quang Liem, the no.1 chess player of Vietnam, totally gained 2706.8 after the 46th Capablanca Memorial ended and was ranked 34th in the top list from May 23rd, 2011.
Quang Liem is the first Vietnamese and also the fourth Asian chess player who joins the world top list. The other three Asian chess players who marked their names on the top list are: India's Viswanathan Anand, Wang Hao and Wang Yue, both from China.