In the standard football match between U19 AS Roma and U19 Tottenham, U19 AS Roma team defeated  U19 Tottenham 2-1 .


U 19 AS Roma is now top of the group of the 4 teams  with two wins in the 2014 U 19 tournament football organized by Nutifood, taking place at Thong Nhat Sports Stadium, HCM city on January 8.
In the first haft, U19 AS Roma unexpectedly led U19 Tottenham by 1-0 by striker Daniele in the 28th minutes.
However, only 1 minute later, U19 Tottenham was awarded a penalty that managed an equalizing 1-1.
Soon after the beginning the second half, AS Roma immediately had one more goal with achievement of striker Michele.
 
Thus, with the result, U19 AS Roma ranks the first position after victory of 2-1 against U19 Tottenham.
futhermore, U19 AS Roma is predicted to  become the  champion of the tournament.
List of football players of U19 AS Roma and U19 Tottenham :
U19 AS Roma : Lorenzo, Mihai Alexandru, Massimo, Michele, Deian, Luca, Jacopo, Simone, Valerio, Daniele, Romeo.
U19 Tottenham: Hary Woss, Dominic Ball, Mc Qeen, Connor Ogilvie, Anton Walkes, Filip Lesniak, Harry Winks, Olukolade, Nathan Oduwa, Harrison.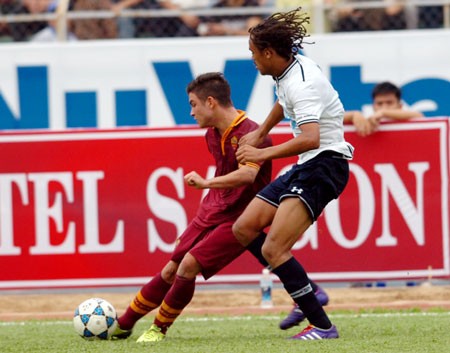 (Photo:SGGP)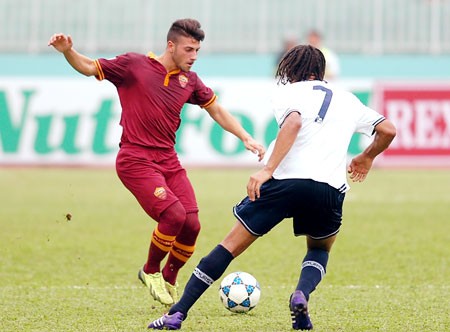 (Photo:SGGP)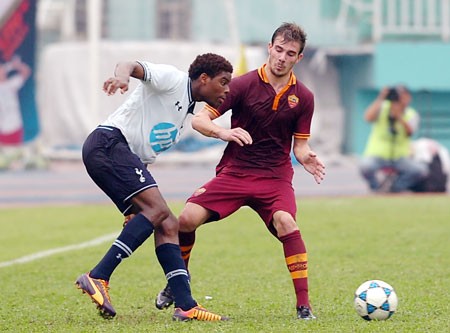 (Photo:SGGP)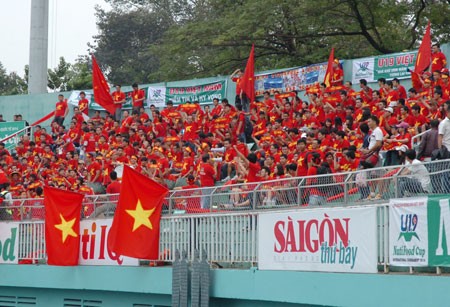 Crowded Vietnamese fans attended in Thong Nhat Sports Stadium to support two football teams (Photo:SGGP)