The first international football team from Japan was present in Tan Son Nhat International Airport at 10: 40 pm of January 3 to participate in the international U19 football tournament-
Nutifood Cup 2014.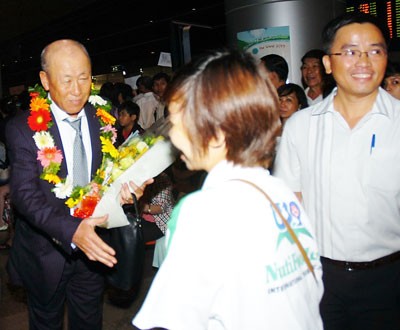 Head of Japanese Football League (L) at Tan Son Nhat Airport (Photo:SGGP)
Japan's U19 football team includes young talent football players with a beautiful body that is deeply impressed for Vietnam audiences, which has just participated in qualifying round of U19 Asian and ranks at the first position in the group 1.
In a quick interview at the airport, Coach Suzuki Masakazu shared that his football players are so impressed by competitors in this event as AS Roma, Tottenham...
Meanwhile, Suzuki Masakazu admitted that although Japan team did not know much about U19 Vietnam team, they still appreciated highly that Vietnam will be a strong competitors for U19 Japan team at Asian Cup Final Round.
Japan Coach expects that U19 Japanese football team will become championship in Nutifood Cup 2014.
As schedule, the other football teams will attend in Vietnam on January 4-5.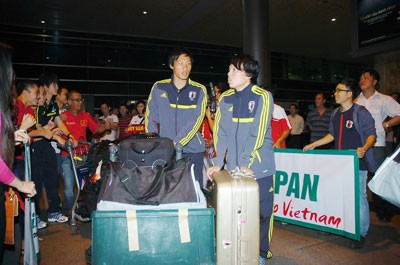 The young U19 Japanese football players (Photo:SGGP)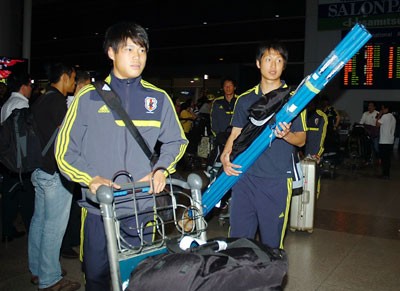 The Japan team attend in Tan Son Nhat Airport(Photo:SGGP)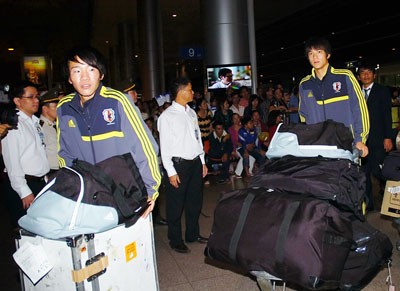 (Photo:SGGP)