U-23 Iran earned a 2-0 victory over U-23 Uzbekistan on April 18 to take the lead of the Spring Football Cup while the host Viet Nam drew again, ranking second among the four competing teams.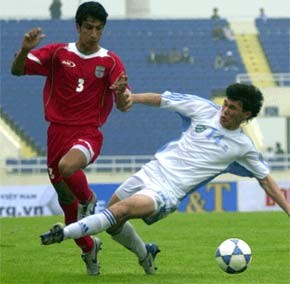 An Iran defender battles for the ball with a Uzbek player (Photo: Vietnam Football Federation)
At My Dinh National Stadium in Ha Noi, striker Safar scored both goals for U-23 Iran in their match against the players from central Asia.
Iran advanced 22 minutes after the kick-off. Midfielder Sokrrat drove the ball into the penalty box, passed three Uzbek defenders and gave Safar a convenient cross. Safar scored with a shot close to the goal.
Just three minutes after the break, Safar scored his second goal, also the final of the match. Playing well in the midfield, Sokrrat made substantial contributions to his team's victory.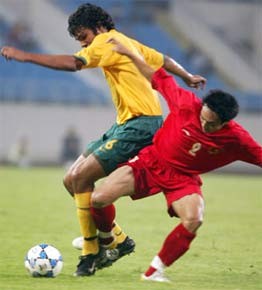 Viet Nam defender Phung Van Nhien (R) fights for the ball against an Australian midfielder (Photo: VNN)
The Uzbek side did not play good enough to change the situation in the match as they did in the game with Viet Nam on April 16, attaining a draw. They are now at the bottom of the tournament, with one point after two matches.
In the later game on April 18, both Viet Nam and U-23 Australia scored no goals. The players from the land of kangaroos controlled the match better in the first half but could not score.
The first half belonged to the yellow-jersey Australian players but the second half was the time for the all-red-jersey hosts to perform much better. Substitute Nguyen Hong Minh played well in the midfield and helped trigger many attacks for the Vietnamese strikers but they failed to net.
A consolation for the hosts in this scoreless game was that their goalkeeper was selected the man of the match.
In the final round on April 20, Viet Nam will play U-23 Iran and U-23 Uzbekistan will meet U-23 Australia, who rank third now but have more advantages than Viet Nam because Uzbekistan do not seem to hold a strong spirit for the match.