LONDON, Aug 19, 2011 (AFP) - Arsene Wenger faces a disciplinary hearing for allegedly breaching the terms of his touchline ban during the Gunners' 1-0 Champions League win over Udinese, UEFA confirmed on Friday.
Wenger, who was banished to the stands for Tuesday's tie as a result of his spat with match officials during last season's Champions League clash with Barcelona, is accused of passing messages to the Arsenal dugout.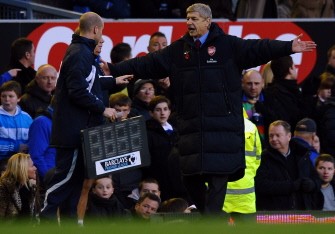 AFP file - Arsene Wenger
"Disciplinary proceedings have been opened against Arsenal FC manager Arsene Wenger for not abiding by the decisions of the UEFA control and disciplinary body in relation to the one-match suspension he served during Tuesday's UEFA Champions League play-off game against Udinese," a UEFA statement said.
During Tuesday's match, Wenger appeared to be relaying messages to the Arsenal bench via an assistant sitting next to him at the Emirates.
Arsenal immediately confirmed they plan to contest the charges, while Wenger admitted he was baffled by UEFA's decision to open a hearing.
"I am completely surprised, but we are completely open to any enquiry from UEFA. We have nothing to hide and I don't think we have done anything wrong," he said on Friday.
"It is a little bit (frustrating). Frankly, you never know what a manager's ban is.
"I did not communicate with the bench. I watched the game from the directors' box and that was quite enjoyable -- if they want to make an enquiry, we have nothing against that.
"They gave us the rules and we observed, strictly, what they told us."