NYON, Switzerland, April 29, 2011 (AFP) - UEFA on Thursday announced it had launched a disciplinary inquiry into events surrounding Wednesday's fractious Champions League semi-final tie between Real Madrid and Barcelona.
One of the incidents being investigated is Real coach Jose Mourinho's post-match outburst in which the Portuguese suggested referees always showed favouritism to Barcelona, who won 2-0 in Madrid to take a huge step topwards the final.
Mourinho also came under fire from Barcelona, who later Thursday announced they were lodging an official complaint with European football's governing body over his tirade.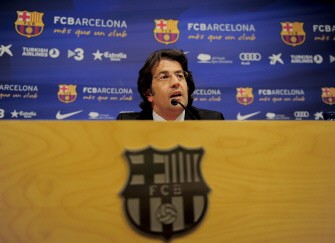 AFP - Spokesman of the legal section of the Barcelona football team, Toni Freixa, gives a press conference on April 28, 2011 at the Camp Nou stadium in Barcelona, one day after the Champions league semi-final first leg against Real Madrid
Real Madrid countered late on Thursday by issuing their own complaint to UEFA over what they termed Barcelona's persistent unsporting behaviour during the match, claiming that Barca players continually over reacted and went to ground at the slghtest excuse.
Real also said they fully supported Mourinho.
After Barcelona won the first leg tie 2-0 Mourinho prompted a storm of protest from Barcelona over his post match comments alleging bias towards his side's bitter rivals.
The Real Madrid coach said: "It shouldn't have been a red card for Pepe. Maybe someone can give me an answer. A foul on a Barcelona player and miraculously a red card.
"I don't know if Barcelona are friendly or not. They are a great team so congratulations to them but they have this power. Pepe sent off and me too. I don't know why.
"Why? Why does a fantastic team need this. (Anders) Frisk (the referee for the 2009 semi-final between Barcelona and Chelsea) (Wolfgang) Stark (the match referee). Why? Why? Football is equal for everyone. The team that deserves to win, should win.
"If they won by merit we would accept it. Why in a balanced game like tonight did it happen? Why? Why did they leave us with ten men? Why did they turn down four penalties against Chelsea in the semi-final a few years ago? I hope one day I will have an answer. I always try to be honest. I just want to know why."
Barcelona issued a statement giving their reaction to Mourinho's comments.
"In the post match press conference, Jose Mourinho severely criticised the referee Herr (Wolfgang) Stark and insinuated that UEFA treated Barca favourably," the club said.
"The club's legal department is now studying whether to take his remarks to the UEFA disciplinary commission."
Later the Catalan club confirmed it had decided to pursue the matter with UEFA over Mourinho's "inappropiate comments".
"The motivation behind this complaint comes from the wish of the (club) president (Sandro Rosell) to defend the club's history and prestige, its members, its managers, its players and its directors," Barca spokesman Jordi Freixa explained.
He continued: "It is absolutely inacceptable that someone can call into question our history, our titles..."
As well as the Mourinho affair, UEFA said it was also investigating the throwing of missiles by Real Madrid fans at the Santiago Bernabeu, a pitch invasion and the red card shown to Real defender Pepe on the hour mark for a tackle on Dani Alves.
The dismissal of Mourinho will also be discussed at the hearing on Friday week.
UEFA are also looking into the red card handed out to Jose Pinto, Barcelona's reserve goalkeeper, who received his marching orders following the half-time fracas on the touchline.