WOLVERHAMPTON, United Kingdom, Jan 6, 2011 (AFP) - Carlo Ancelotti insists he doesn't fear the sack even though he effectively wrote off Chelsea's title hopes after their shock 1-0 defeat at Wolves.
Ancelotti is facing an increasingly uncertain future after a run of one win in nine league games left the champions nine points adrift of leaders Manchester United, having played one game more.
Another dismal result against Wolves, who had been bottom of the league before kick-off, only served to pile the pressure on the beleaguered Italian.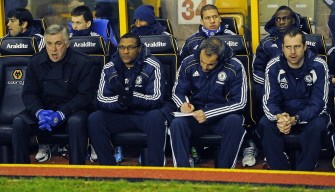 Carlo Ancelotti (L) is pictured with his coaching staff before the match between Wolverhampton Wanderers and Chelsea. AFP
Even a top four finish in the Premier League - and a place in the Champions League - can't be taken for granted by the fifth-placed Blues.
But Ancelotti insisted he will not be worrying about the reaction of notoriously demanding Chelsea owner Roman Abramovich.
"Would I be surprised if I got the sack? Yes. It is obviously not my decision but I hope I can continue this job," Ancelotti said.
"I would like to stay here, I have got a good relationship with the players and the club. I don't fear for my job. I'm worried because the team doesn't reach the right results.
"It's obvious that we are not good enough at the moment but the team has the skill, the ability and the personality to move on. It's important to stay compact and work together.
"It's another defeat but I think we have to keep going. We have to work hard, stay focused and we've got to keep fighting for the title.
"There is a big gap but now the most important thing is to come back to win the games and to fight everyday game by game.
"Nothing is lost at the moment. Obviously it's difficult to come back in the Premier League but we have the FA Cup and the Champions League, and the most important thing now is to move on."
Ancelotti admitted he had got it wrong after boasting "we will win" the day before the game.
He added: "I made a mistake. I saw the players working hard. I don't see problems in the squad.
"They are working hard with a good spirit but I think that is not enough. We have to stay more focused on the little details because I think the little details decided this match.
"We could do better in the first situation when we conceded the goal and we could have done better when we had the opportunities to score.
"It's difficult to explain this reason because I think there is not just one reason. There is a lot of reasons that can explain this moment."
Wolves collected their fourth win in seven games after Jose Bosingwa's own goal after just five minutes.
The victory lifted Wolves and manager Mick McCarthy out of the relegation zone for the first time since October.
McCarthy said: "I want to be out of it on May 22. We might go up and down like a fiddler's elbow until them but it is nice to be out. We're probably going to have 10 good days out of 38, 10 wins.
"(John) Terry said we were as good as anyone they've played home and away and shouldn't be where we are - but I don't think he knew we were out of the bottom three!"