CAPE TOWN (AFP) - Former champions France failed to set the World Cup alight on Friday as they struggled to a 0-0 draw against 10-man Uruguay in an uninspiring start to their campaign.
Rarely can a team have arrived at a World Cup with more baggage than France, unsettled by rumoured internal strife and criticised at home for poor form.
They did little to appease their detractors against the South Americans, with neither side able to take the early initiative in Group A after South Africa and Mexico drew 1-1 in the opening match of the tournament.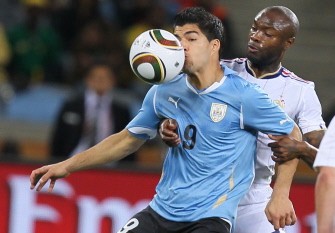 Uruguay's striker Luis Suarez (L) is hit by the ball in front of France's defender William Gallas on June 11, 2010. AFP photo
France coach Raymond Domenech raised a few more eyebrows by leaving not just Thierry Henry on the bench but also Florent Malouda.
Nicolas Anelka was tasked with the main goalscoring duties and Arsenal's Abou Diaby drafted in for the Chelsea midfielder.
But they looked far from convincing at a packed Green Point Stadium.
"It's frustrating not to have won. Perhaps we weren't quite calm enough or precise enough, but they defended very well and they have a certain quality to their game," said Domenech.
"Clearly I would have preferred 1-0 but that is not what occurred."
He was clearly disappointed with the inability of his team to get a goal.
"I am happy with the overall performance, but we didn't finish as strongly as we could have done. We didn't have the finishing touches, which is a pity," he said.
France skipper Patrice Evra said he saw plenty to please him in the game.
"We really wanted the three points, but I am really proud of the team," said Evra.
"I think we did well. It's the first match. I'm confident for the games ahead. We really deserved to win. Apart from free-kicks, I couldn't see where Uruguay were going to be dangerous."
Uruguay coach Oscar Tabarez disagreed, saying a draw was a fair result.
"When you consider France's history and the fact they had far more finances than us, then I am happy with a draw, which we deserved," he said.
"The group is now evenly balanced and the next games will be crucial."
Both sides started lively enough with France having a great opportunity to take an early lead on six minutes when the dangerous Franck Ribery gave his defender the slip down the left.
The Bayern Munich star sent a low cross into the box with Sidney Govou's outstretched foot sending the ball just past the post, a chance he should have buried.
Uruguay were struggling to find their groove until Diego Forlan found space just outside the penalty area and curled in a shot that forced a fine save from Hugo Lloris.
The game began opening up and minutes later Yoann Gourcuff tested the Uruguay keeper with a swinging free-kick that Fernando Muslera did well to punch away.
But just as suddenly the match got bogged down in midfield and the chances dried up, with the teams going to the break all-square.
The second half started as the first finished and it was becoming a turgid affair.
Forlan showed glimpses of the form that bagged him so many goals last season, effortlessly bringing down a ball on his chest before blasting wide early in the second period.
But the goalkeepers were hardly troubled with Anelka all at sea as France's lone striker. He paid the price with Henry replacing him for his 121st cap with 19 minutes left.
Malouda also came on for Gourcuff as Domenech threw his last dice, but to no avail with France failing to capitalise when substitute Nicolas Lodeiro was shown a red card for a wild challenge on Bakary Sagna with eight minutes left.