MANCHESTER, April 4, 2010 (AFP) - Sir Alex Ferguson's angry tirade at the officials who handled Manchester United's 2-1 defeat by Chelsea may have temporarily blurred the picture.
But once his temper had subsided, the United boss will have been acutely aware of the reality that his squad's season could effectively be over by Wednesday evening, when Bayern Munich will visit Old Trafford with a 2-1 first leg lead to defend in their Champions League quarter-final tie.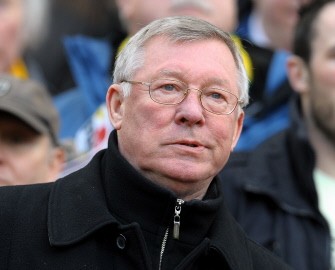 Sir Alex Ferguson looks on before the English Premier League football match between Manchester United and Chelsea on April 3, 2010. AFP photo
After watching his side outclassed by sharper, fresher opponents for much of Saturday's encounter, Ferguson did not hide from the fact that his players had lost control of their own destiny in their quest for an unprecedented fourth consecutive English title.
"Chelsea are definitely favourites now, there is no question about that," the United manager said. "Two points clear with five games left, it's a great position for them to be in. We could still win all five of our games and win it, but if Chelsea win their five, they'll win it."
Ferguson felt his side had done enough in the second half to have deserved at least a draw but that was a conclusion few neutrals will have arrived at, and the United boss will inevitably have been concerned by the lack of scoring opportunities generated by his side in the absence of Wayne Rooney's talismanic influence.
Rooney, sidelined for up to three weeks by an ankle injury suffered in the defeat in Munich last week, will be missing again on Wednesday and Ferguson underlined the importance of his team-mates stepping up to the plate in what could now be the match that defines their season.
"We have to lift ourselves. It is so important," he said. "We are trying to get into the semi-final of the European Cup and a final in Madrid is beckoning. That is incentive enough."
Chelsea, in contrast, have completed a remarkable turnaround in their fortunes since their exit from the Champions League at the hands of Jose Mourinho's Inter Milan.
A season that appeared to be unravelling now looks very likely to deliver a domestic double, although their manager, Carlo Ancelotti, insists he will not allow his players to dwell prematurely on that agreeable scenario in the run-up to Saturday's FA Cup semi-final against Aston Villa.
"We had a very good reaction to that defeat against Inter," Ancelotti said. "Nothing changed but we had the possibility to train during the week, to maintain good condition and improve our play."
The Italian had banked on United feeling the effects of Tuesday night's high-stakes encounter in Munich, and was proved right as goals from Joe Cole and second-half substitute Didier Drogba gave Chelsea a deserved win.
"Our aim was to keep high intensity, above all in the first half," Ancelotti said. "We wanted to maintain a high tempo and we did this very well.
"It is very important at this moment of the season to have time to train during the week. We can take advantage of this, but only if we stay in focus. We have more possibilities than Manchester United to win, but we have to keep quiet, stay composed and calm."
Ferguson's frustration with the match officials centred on their failure to spot that Drogba was at least a yard offside when he received the pass that enabled him to give Chelsea a two-goal cushion with ten minutes left.
But referee Mike Dean had arguably erred just as badly in the first half when he declined to award Chelsea a penalty when Gary Neville barged Nicolas Anelka off the ball in the area.
United had three penalty appeals of their own but television replays suggested that the much-maligned Dean may have been correct to give the defenders the benefit of the doubt over those finely-balanced calls.